Could this be proof that Russia likes Canada better than the United States?
Canada's Jan Hudec tied for bronze with US, but Russians chose Canadian flag on top of American. #cbc #sochi pic.twitter.com/6wQ3cWLFTG

— David Common (@davidcommon) February 16, 2014
Canadian skier Jan Hudec captured bronze in the men's super-G in a tie with American Bode Miller on Sunday. But when the flags were raised, the maple leaf was placed on top of the stars and stripes.
Many on Twitter were quick to speculate that the flag order is proof that Russia likes Canada more than the U.S. ... or at least that Russia dislikes the U.S. more than Canada.
So is there really flag favouritism when Olympians tie?
Well, in the past flags have often been raised side by side. But at the 2012 Summer Games in London there was controversy over China's flag being placed below that of South Korea after a swimming tie. The IOC said that in situations where there is not enough room for side-by-side flags the top emblem is determined in alphabetical order according to the last names of the athletes.
In the case of Hudec and Miller things played out alphabetically. But the situation is complicated by how the flags were raised after Switzerland's Dominique Gisin and Slovenia's Tina Maze tied for gold in women's downhill on Wednesday.
Slovenia's flag was raised over that of Switzeland even though "G" comes before "M."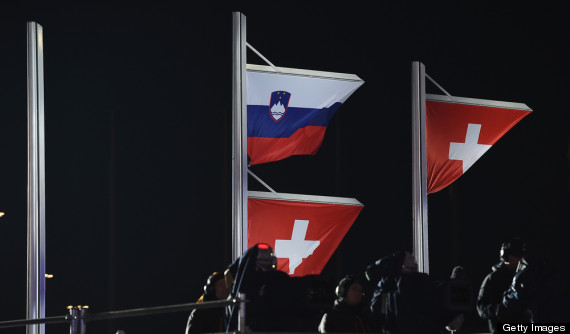 In the Cyrillic alphabet used by Russians the character for "G" also comes before "M."
So, it seems the Olympic host can do pretty much whatever it wants. Therefore, we figure Canada can take this flag-raising as a compliment. Hey, we'll take as many wins over the U.S. as we can get.
Also on HuffPost
Awesome World Flags Made Of Food