A Vancouver-based bitcoin exchange says its account has been shut down by the Bank of Montreal and claims the bank is closing all accounts owned by businesses who trade in bitcoins.
In a statement on its website, Cointrader said BMO was the "last remaining bitcoin-friendly charter bank" in Canada and it's disappointed by the move.
"Despite the fact that Cointrader has already implemented an anti-money laundering regime to comply with potential FINTRAC regulations which was vetted by BMO itself, the bank has decided to sever our account as well," wrote Cointrader co-founder Paul Szczesny.
A spokesman for the Bank of Montreal said Thursday he could not say whether only Cointrader's account was shut or if the bank is freezing all bitcoin business accounts because of a "privacy policy that precludes the bank from commenting on customer business."
But the founder of the Bitcoin Alliance of Canada says he's skeptical about Cointrader's claim because he has heard from a number of bitcoin companies who say their accounts with BMO are still open.
"I'd like to see a statement or account from BMO, rather than just one company that had their account shut down," said Anthony Di Iorio.
Most of Canada's so-called Big Six banks have already frozen or shut down accounts owned by companies who trade the currency.
The bitcoin company points out that the bank's decision comes just after Finance Minister Jim Flaherty linked the cryptocurrency to criminal activities in last week's budget speech.
"It is important to continually improve Canada's regime to address emerging risks, including virtual currencies, such as bitcoin, that threaten Canada's international leadership in the fight against money laundering and terrorist financing," Flaherty said.
Bitcoin transactions are largely anonymous because they are logged in a public ledger but are not tied to a bank account. Because of the anonymity, the currency has garnered attention from those who want to mask their activities and has left governments wary of potential criminal implications.
Cointrader, which recently launched the world's first bitcoin ATM in Vancouver, believes the Canadian government is attempting to "stifle the flourishing local bitcoin economy".
The company says it's considering relocating its headquarters outside of Canada to "a more innovative jurisdiction where dubious fear-mongering does not pre-emptively close doors on the entrepreneurial spirit."
"If Canada continues its negative stance, and chooses not to help this thriving economy grow in accordance with the law, then we will be forced to relocate to more forward-thinking economies which are able to encourage innovation while also effectively deterring criminal behaviour," Szczesny wrote in the blog post.
Bitcoin is the most popular of a spate of digital currencies that have been entering the financial realm as an alternative to cash or plastic, and which exist only in an online form. The unchartered digital currency is free from interference from any central banking authority, financial institution or middle man.
The currency has been around since 2009, when it traded for fractions of a penny. It was thrust into headlines last year after $25 million worth of the virtual money was seized from the black market website Silk Road. Last month, Silk Road came back to haunt the community, when the CEO of a bitcoin exchange in the United States was arrested and charged with running an illegal scheme to sell $1 million in bitcoin to Silk Road users.
Russian officials have also warned against using bitcoin because of its potential use in money laundering and terrorism financing, adding that treating it as an alternative currency is illegal. It has also set off alarm bells at the FBI.
The Canadian government has been taking a wait-and-see approach to bitcoin, unlike Germany, which recognizes it as private money. At the other extreme, China forbade its banks from dealing in the currency. Earlier this year, Canada acknowledged the existence of bitcoin, saying only that the currency is not recognized as legal tender. But it has also declared that it is not tax exempt either.
Bitcoin's value topped $1,000 (U.S.) late last year but currently hovers around $600 as the currency is under attack by cyber criminals who have exposed flaws that allow users to falsify transactions and has brought down some of the world's largest exchanges.
The exchanges, Bitstamp and Mt.Gox, have suspended withdrawals until the problem can be fixed.
This story has been updated to include comment from the Bank of Montreal.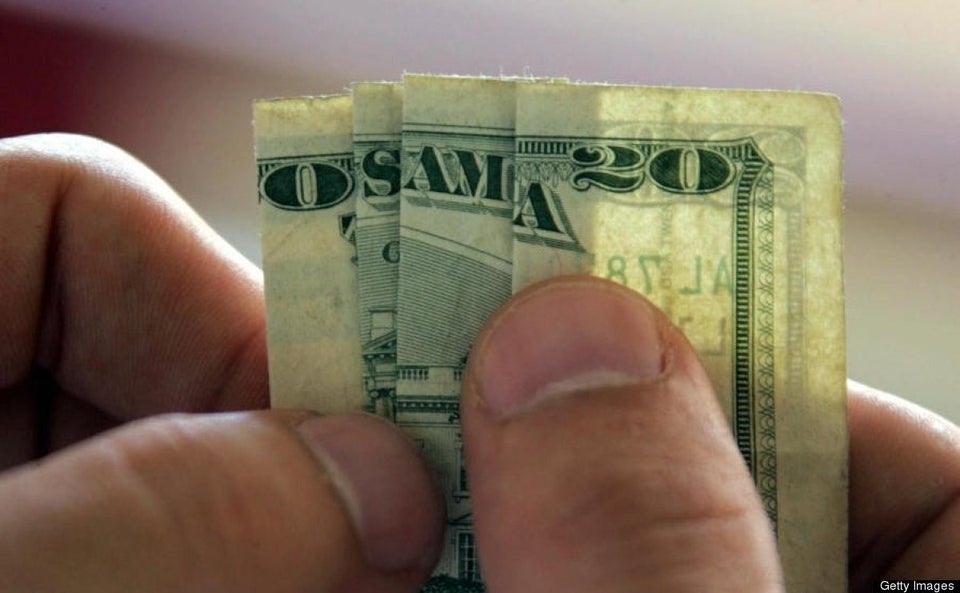 Secret Messages Encoded In U.S. Currency