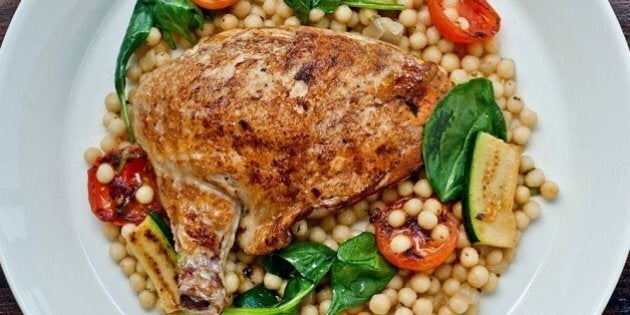 Test Drive: The Huffington Post Canada's Living team will try out something that has sparked our curiosity, and as long as we live to tell the tale, we'll let you know all about it.
Test Drive Subject:Mealspirations, a recently launched food delivery service, currently available in Ontario in Mississauga, Toronto, Scarborough, East York, North York, Richmond Hill, Vaughan, Brampton, Thornhill, Milton, Woodbridge, Oakville, Markham and Etobicoke.
What It Is: A weekly service that drops off ingredients (other than pantry staples) and recipes every Sunday to your home in order to help you create healthy meals for the whole week. With ingredients portioned out so that you only get the amount you need for the meals, the service is meant to help busy people organize how they'll eat for the coming days. The instructions that accompany the package even note which meals should be cooked first to optimize freshness.
Price: $78 a week for two people (though I found the amount of food delivered could be stretched to feed at least one more), or $144 a week for a family of four (averaging $12 per meal, per person). Fresh fruit delivery can also be added for $29 per week.
Trying It Out: First of all, I should admit that I don't do the majority of the cooking in my household — that task falls to my husband, who is far better at looking in the fridge and cobbling together meals based on what we have. But I can follow a recipe pretty well, even if it's the last thing I want to do when I get home from a long day at work.
I've recently returned to work after being on maternity leave, so meal planning is definitely top of mind right now. The fact that Mealspirations tells me exactly what we'll be eating all week is a massive relief, but it also puts the obligation on me (or my husband) to actually make the food before it goes bad (as opposed to cheating and picking up prepared meals or takeout).
But make it I did, despite how time-consuming it soon became. On the website, it notes meals take about 30 to 40 minute to prepare, and perhaps it's my less-than-polished cooking abilities, but it was a solid hour before I got my Pan-Seared Rainbow Trout with Panzanella Salad anywhere near done. That said, when it was finished, it was completely delicious. (The other two recipes I received were Herb-Crusted Pork Loin Chops with Sweet Potato Mash and Roasted Vegetables, and Beef Paillard with Greens, Berries and Crumbled Goat Cheese.)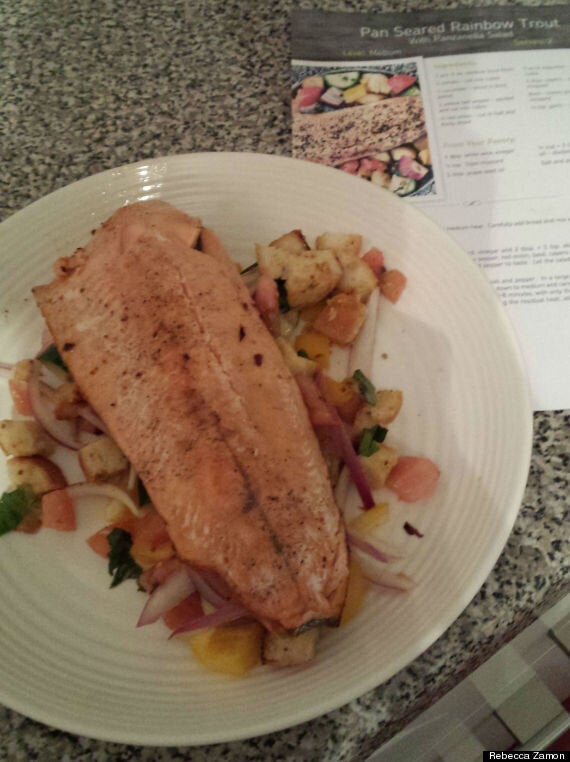 Example of one meal upon completion: Rainbow Trout with Panzanella Salad
Our Thoughts: As I mentioned, I really like the idea of a service that gives you ideas of meals for the week (I can't tell you the number of times I've searched 'meal planning calendar' online), along with high-quality ingredients and recipes that you might not attempt otherwise. Once they're made, the meals are very yummy and often leave leftovers for lunch the next day.
However, considering both the huge number of prepared foods available at various grocery stores, as well as meal delivery services available, for someone like me who is, frankly, pretty lazy in the kitchen, for the high cost of this service, I'd kind of like to have my meals already made.
The Warning: Remember, this service delivers ingredients, not meals. Those ingredients are rather spectacular (I have never enjoyed eating a beef dish I made myself so much), sourced from local farms, and portioned to make sure you don't end up with a massive bunch of cilantro at the end of the week, but they do require you to make meals. And if you're already used to meal planning, you really won't need this service. Instead, for the convenience of delivered groceries, try something like Grocery Gateway or specific farm delivery boxes for seasonal ingredients.
Tips: If you're someone who cooks regularly, feels confident in the kitchen and just doesn't have time to grocery shop or meal plan, Mealspirations can be a great addition to your life. Despite the ease of prepared meals, they simply don't taste as good as something you've made yourself, and there's certainly something to be said about knowing everything that's in your food when it comes to health.
Just don't use this service as a way to hone your skills in the kitchen, as you'll likely end up frustrated (and ordering takeout anyway).
Have you tried out these meals, or another food delivery service? Let us know what you thought in the comments below:
ALSO — Other things the Huffington Post Canada Living team has tested: