Canada's gold medal in Olympic women's hockey had people jumping for joy, LITERALLY.
Olympic fever brought us all together, including...
Hockey players, like the Edmonton Oilers
And the Halifax Mooseheads
Not to mention sportscasters
And journalists at CBC's Toronto HQ
True story. RT @AKellyGlobal: Quebec budget lock up erupts in cheers watching Team Canada game pic.twitter.com/NdFu6Ic3S1

— Monique Muise (@monique_muise) February 20, 2014
And diplomats
Students were definitely not studying this afternoon
@strombo my students reacting to the golden goal #GoCanadaGo #WeAreWinter pic.twitter.com/2s6QrWEq1C

— Eva Blaze (@EvathedivaEva) February 20, 2014
And politicians got in on it, too
PMSH takes over plane intercom on return flight from Mex. Announces results of Cdn. Women's #Hockey game. Cheers + applause erupt. #cdnpoli

— Omar Sachedina (@omarsachedina) February 20, 2014
Our women's hockey team fought hard for overtime and their hard work lead to gold! #Sochi2014 #WeAreWinter pic.twitter.com/v5mQl3feBT

— David Johnston (@GGDavidJohnston) February 20, 2014
Congratulations. You made us proud.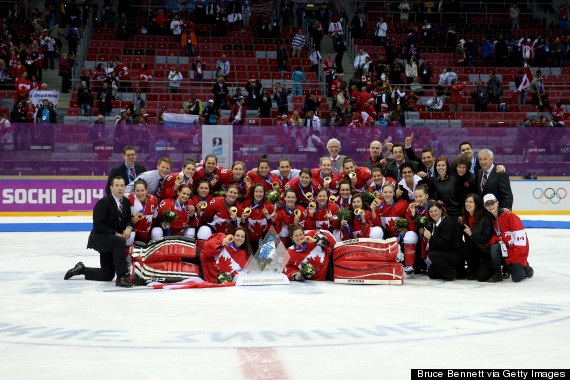 Like this article? Follow our Facebook page

Or follow us on TwitterFollow @HuffPostCanada
Also on HuffPost