Next time your cat's giving you the evil eye, it may be because she actually knows something you don't. And definitely steer clear of those teeth.
According to a new study, published in the science journal PLOS ONE, a startling number of people bitten by cats are diagnosed with depression.
For the study, researchers at the University of Michigan looked at the medical records of 1.3 million patients.
"[We] conducted a manual chart review in the electronic health record of all patients with a code for a bite to accurately determine which were from cats or dogs," study author David A. Hanauer writes. "Overall there were 750 patients with cat bites, 1,108 with dog bites, and approximately 117,000 patients with depression. Depression was found in 41.3% of patients with cat bites and 28.7% of those with dog bites."
The data on female patients is even more astonishing; there's an almost 50 per cent chance women bitten by cats will be diagnosed with depression. Compare that to the less than 25 per cent of men with a similar bite.
So what does it mean? Can cats actually detect depression and nudge you in the direction of professional help?
There's also a chance, Michigan researchers suggest, people with mental health issues act in ways that make them more bite-worthy.
"For example, depressed individuals often make less eye contact compared to those without depression. Some animals, such as dogs, horses, and pigs are known to respond to human social cues such as gestures, gaze, and focus. Even cats may respond to pointing gestures and human gaze."
If trends in the U.S. are any indication, these furry depression detectors are appearing in more and more homes. According to the Wall Street Journal, some 45.3 million cats sit in the windows of U.S. householsd, menacing passersby and suggesting that they do indeed know what you did last summer. That's up from 38.4 million in 2012.
Besides the immediate and obvious horror of getting punctured by a perfidious pussycat, there are a few other causes of concern. A Mayo Clinic study published in this month's issue of The Journal of Hand Surgery, reveals that nearly one in three patients who had a cat bite on their hand find themselves hospitalized for more than three days on average.
The culprit? Those nasty, nasty teeth.
"Dogs' teeth are blunter, so they don't tend to penetrate as deeply and they tend to leave a larger wound after they bite," senior study author Dr. Brian Carlsen said in a press release. "The cats' teeth are sharp and they can penetrate very deeply, they can seed bacteria in the joint and tendon sheaths."
The study isolated 193 patients with cat bites to the hand from January 1, 2009, through 2011. From that group, 57 patients were hospitalized, spending three days under medical care. And, among those patients, 38 had to have the infected tissue removed. A further eight patients went under the knife several times.
There's yet another possibility as to the cause of the cat and depression correlation -- and this one's a kicker. One cat infected a patient with Toxoplasma gondii -- a nasty little parasite that can literally rewire the human brain. And there's nothing quite like kitty daggers to make sure you get a full serving.
In any case, please don't heap more scorn on your cat than already necessary. If they can truly sniff out depression, then maybe a sharp reminder to seek help for your mental health is just what you need.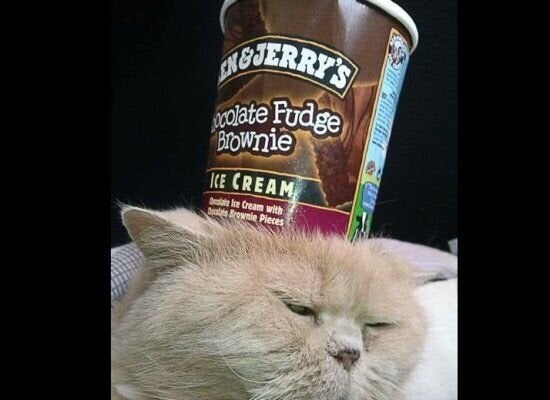 Cats: They Just Don't Give A F**k