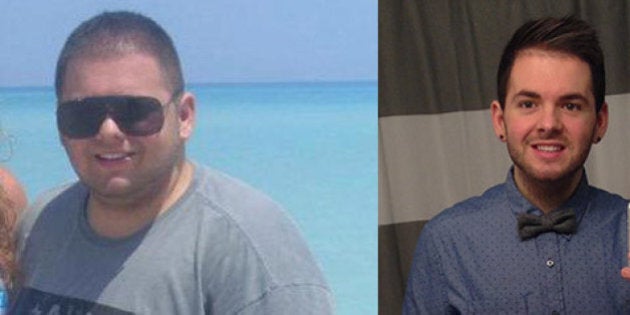 By The Numbers: 300 at my heaviest, and currently 194, total weight loss of 106 pounds
The Weight Gain: As a kid, I was a pretty healthy and skinny for the most part. I was always very active, played hockey since I was 4 and I can't remember ever not playing outside. The weight gain started when I was about 10. Unfortunately, my weight gain was triggered as a result of both my parents going through a separation during that year.
I don't think I really realized how quickly I was gaining weight until I was in high school and insecurities set in.
The Final Straw: There's so much that went through my head when I think about all the situations, comments, and ridicule I endured that made me want to change. The final straw had to have been somewhere between a McDonald's and all-you-can-eat sushi binge — but all jokes aside, it happened when the realized I was disrespecting myself, and I wasn't loving myself and how I looked. In turn, how could I expect friends, co-workers, potential clients, or new partners to respect me?
I wanted to be healthy, I wanted to wake up in the morning and not look in the mirror and feel disgusted with myself. I wanted to be happy, and shop at all the stores I liked. I didn't want have to battle searching for the largest size in a store and pray it would somehow fit. And then there's the whole having a beach body thing. I'm a very social and outgoing guy, so being out and about and always in public eye, I wanted to been seen differently.
Story Continues Below. Check out more of our inspiring weight loss stories: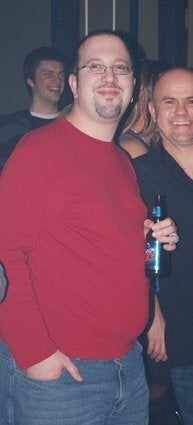 Lost It: Weight Loss Success Stories
The Plan Of Attack: It all started a year ago, right after booking a trip to Cabo, Mexico with friends. I set the goal in my mind that I would loose 100 pounds in one year. A friend of mine introduced me to the world of juicing and I don't think I ever turned back since. I replaced my breakfast meals with a fresh green juice filled with fresh fruit and vegetables.
Every morning, I would get up 20 minutes earlier, fire up the juicer and away I went. Immediately after a week of this process, I already found a change in my attitude, energy, and that I was actually losing weight. Next, included removing any and all processed foods from my life. Trust me when I say it's really easy to do this.
The Food Element: I started eating fresh foods, and foods rich in vitamins and nutrients. A lot of the time kale became my best friend. But for the most part, processed foods, sweets, fast food, and heavy meals like a bowl of pasta were out of my life. I also become very conscious of calories I was consuming when I would cheat or indulge a little. I knew how much work, sweat, and time went into burning off a cookie at the gym.
The hardest adjustment was having time! Being healthy takes lots of dedication. Getting take out takes five minutes, whereas finishing work at 5 p.m., getting home for 6 p.m. and whipping up a healthy meal from scratch was not always easy and was quite exhausting a lot of the time.
To this day, I will never admit to dieting. Dieting do not work. Diets always fade away and once they do you go back to your normal eating habits and that gets you nowhere. I discovered that what I went through was a lifestyle change, one I was proud of!
The Exercise Factor: My first step was signing up for my local gym, I knew I would not be making a transformation without putting in some hard work. Prior to joining, everything seemed pretty exhausting and draining becuase I wasn't in shape or active by any means. Signing up for the gym was excruciating because it was a shock for my body to get used to.
These days I go to the gym about three to four times a week for an hour. I focus on 30 minutes of cardio and 30 minutes split between focus on my abdomen, legs, arms, etc. with weights.
The Current Day-To-Day: It gives me so much pride and confidence to see what I accomplished! At the beginning I thought I was dreaming trying to lose anything even close to 100 pounds. One year later and I can't wipe the smile off my face.
My biggest regret was worrying so much about cheating or the bad stuff I ate after the fact of already having it. The damage was done. One healthy meal doesn't make you healthy, just the way as one bad meal will not make you unhealthy.
Remember that it takes lots of time and hard work. There is no rush. Find out what works and what doesn't work for you and create a new lifestyle. It's not going to be easy, and sometimes it will feel like you will never reach your goal, but it's not always about getting to your goal — it's about the journey to reach it and what you discover about yourself. Never lose hope, and never give up. Another huge help is motivating friends to do the same and sharing stories with them. The biggest thing is that you have to want to change and you'll be so happy when you finally do.
Have a success story of your own? Send it to us at CanadaLiving@huffingtonpost.com and you could be featured on the site!