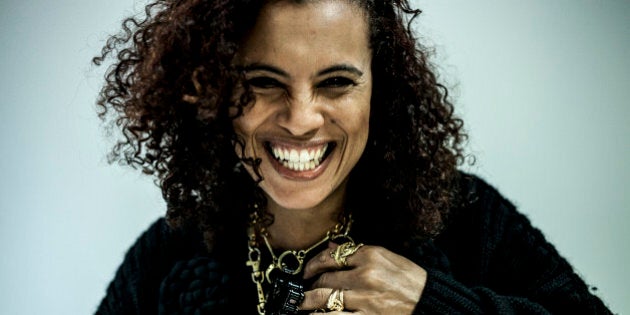 Neneh Cherry has long been dismissed by the mainstream as an '80s one-hit wonder, and one can hardly blame the masses considering how most still associate Cherry with her 1988 hit "Buffalo Stance" (though most also forget how good it actually is).
But Cherry, who just released "Blank Project," her first solo album in 18 (!) years, hasn't been off the radar for fans who have taken the time to seek her out. She actually began her music career in post-punk as a member of The Slits (you can hear her on this 1981 single "In The Beginning") and guesting with groups like The The before moving into hip-hop.
While her '90s releases, 1992's "Homebrew" and 1996's "Man," were considerably less popular than 1988's "Raw Like Sushi" (criminally, "Man" didn't even get a U.S. release) Cherry hasn't exactly been M.I.A. all this time. (Speaking of M.I.A., the agit-rap artist owes a lot of her aesthetic to Cherry's early work, including performing on TV while very pregnant.)
In the wake of the global success of "Buffalo Stance," she bankrolled Massive Attack's landmark "Blue Lines" album and then proved her singing prowess with the powerful Cole Porter cover "I've Got You Under My Skin" for the 1990 AIDS benefit album "Red Hot + Blue." Then she had a minor hit with 1992's "Buddy X" (which also boasted a remix featuring a pre-fame Notorious B.I.G.) and her Michael Stipe duet "Trout." She landed a second Grammy nomination for her 1994 Youssou N'Dour duet "7 Seconds" before her pair of 1996 powerhouse ballads, the James Brown answer record "Woman" and the Marvin Gaye cover "Trouble Man."
At this point her solo career did go away while she took time to raise her family. "People say, where did you go for 18 years?" she recently said to The Guardian. "Unless there's some sort of product to show for it, it's as though the life doesn't exist. I knew my kids were growing up fast and I decided to catch those years. That's an option, isn't it – if you want to become more authentic in your life and less of a parody."
But Cherry's vocals didn't exactly disappear. She released one of her strongest-ever songs, "Twisted Mess," for the long-forgotten Reese Witherspoon/Josh Brolin 1999 film "Best Laid Plans," then in the 2000s she put out two albums with her family band CirKus and became a go-to singer for electronic artists like Timo Maas, Christian Falk and Groove Armada, the latter of which resulted in her best song ever, "Think Twice." She also showed up on albums by Peter Gabriel, Teddybears and Gorillaz.
Then in 2012, she release an album credited to Neneh Cherry and The Thing, an eccentric album of free jazz covers of underground artists like Madvillain, Suicide and The Stooges which seems less out of the blue once you learn that Cherry's stepfather is free jazz pioneer Don Cherry.
And now, at the cusp of turning 50, she returns to her solo roots with "Blank Project," an acclaimed album produced by electronic artist Four Tet (Kieran Hebden) and featuring an appearance by her beloved Swedish progeny, Robyn.
But as fantastic as the new album is, it's important not to jump from "Buffalo" to "Blank," and so we've compiled a 30-song collection of Cherry's greatest solo songs, collabs and guest appearances to put her entire career into proper perspective.