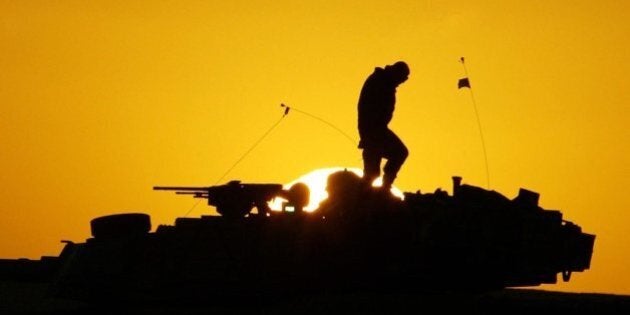 Retired Sergeant Ronald Anderson's death earlier this week was the 10th soldier suicide in the country in the past few months, but his death isn't being counted in statistics kept by the Canadian military.
Anderson, 39, served with the Canadian Forces for 21 years and was deployed overseas seven times, including two tours in Afghanistan. He died earlier this week of an apparent suicide at his home in Doaktown, N.B.
Anderson retired last May. He had been diagnosed with post-traumatic stress disorder.
But as a civilian, his suicide isn't counted among the deaths tracked by the Canadian Forces. The Canadian military only records and publishes the suicides of male regular force personnel.
Female suicide numbers are so few they are tracked separately and aren't included in the military's statistics. Neither are suicides by reservists.
And the suicides of veterans like Anderson who have left the military aren't tracked at all.
That's not right, says Geraldine Lefebvre, who is with the Oromocto Legion.
"They should keep the stats on all suicides — veterans, serving members, reservists, retirees," Lefebvre said. "They're probably the only ones who can track it. We normally hear about them through the obituaries or through a friend or family member."
Melissa Sheridan Embser-Herbert, a contract instructor at St. Thomas University, served in the United States military for more than two decades. She says it's tough to hear about the number of soldiers committing suicide in both countries.
"It's heartbreaking. It's absolutely heartbreaking," she said.
But Embser-Herbert said the public does need to know the numbers to understand whether there's a problem.
"At what point does it become a problem?" Embser-Herbert said.
"You know, one is problematic. But I think we would agree that as numbers climb, we tend to take things more seriously. So there's simply needing to know: is this just an aberration, a few people who couldn't cope or is this something really systemic?"
According to the Canadian Military there were 10 suicides in 2012, the last year for which statistics were published. But that number is likely higher because it doesn't include any women, reservists or soldiers who had already left the military when they died.