In a show like "Game of Thrones," geography matters just as much as characters. The land almost becomes a character of its own.
Inspired by this, regional and environmental planning student Andrew Cuthbert dreamed up what British Columbia would look like if it were home to the Seven Kingdoms of Westeros.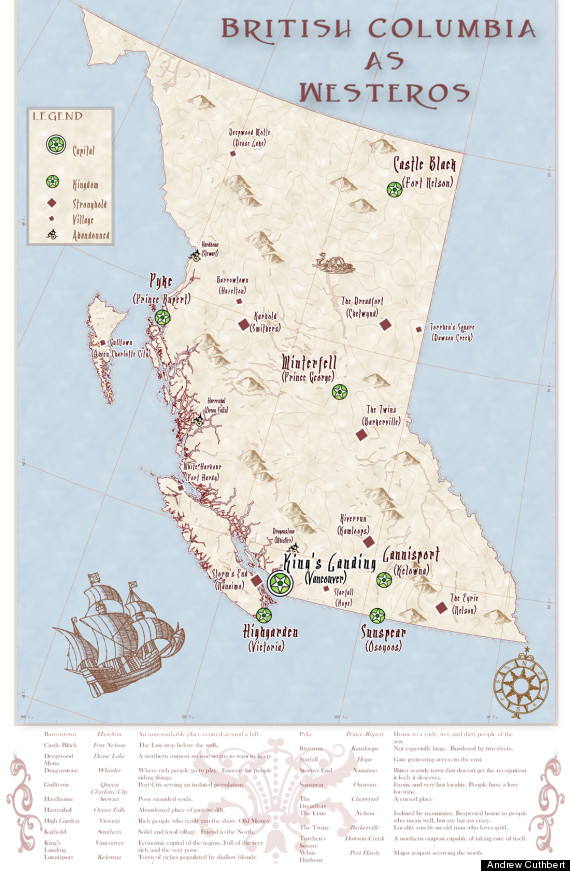 There's Vancouver as King's Landing, the capital; Prince George as Winterfell, the seat of House Stark; and Osoyoos as Sunspear, seat of House Martell, to name a few (see an enlarged version here).
"The comparisons between the real (British Columbia) and fictional ('Game of Thrones') cities are tongue-in-cheek generalizations that are vaguely supposed to represent characteristics of each," Cuthbert wrote in his original post for Spacing magazine.
"The map is also a celebration of British Columbia's varied landscape. The goal was to illustrate that the same types of fantastical social and physical settings can be found in our own backyard."
"Game of Thrones" season 4 premieres on HBO on April 6.
Like this article? Follow our Facebook page

Or follow us on Twitter
Also on HuffPost
"Game of Thrones" Stars Who've Had Nude Scenes The Show