Getty
Toronto's rising unemployment rate is making it an increasingly tough place to find work, but some recent data suggests it could be even worse than anyone thought.
Take, for instance, BMO chief economist Doug Porter's recent musing that "perhaps in 2014, it makes more sense" for people to move from Toronto to the Maritimes than the other way around.
"Toronto now has the third highest jobless rate in the country at 8.4 per cent, whereas it had one of the lowest at the start of the century at 5.5 per cent in 2000," Porter wrote recently.
"On the flip side, St. John's, Newfoundland now has a jobless rate of 5.6 per cent, versus one of the highest in the country at well above nine per cent back in 2000."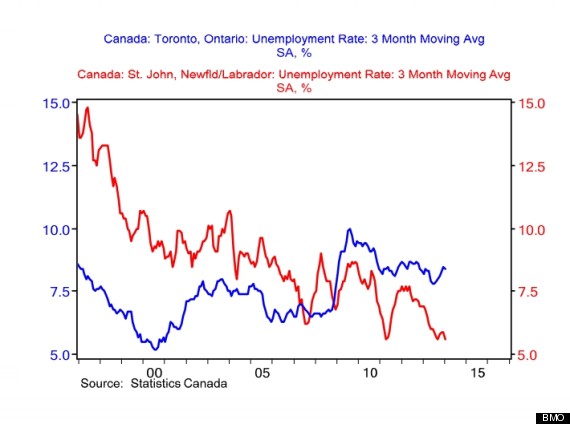 Toronto's unemployment rate hit a multi-year low last spring at 7.8 per cent, and has been climbing ever since. It even had a month recently where the rate shot past 10 per cent. Job growth in the city has been weak, with the city losing 5,500 jobs between December and January. But it's still up about 55,000 jobs over the past year.
Canada's overall unemployment rate was 7 per cent in January.
"It's amazing how some of the Canadian regional economic differences have been turned around in recent years," Porter wrote.
Yet ultimately what matters is how hard or easy it is to find work. On that measure, Toronto may still be better off than St. John's. A recent survey of job ads from employment search engine Adzuna found St. John's is only the 19th best place to find a job in Canada, compared to 10th for Toronto.
Story continues below
Best, Worst Cities To Find Work In Canada
There were roughly four job-seekers per job in Toronto last year, compared to 6.5 job-seekers per job in St. John's.
Still, that's hardly an impressive statistic for Toronto. Grande Prairie, Alta., had only 1.4 job-seekers per job, and in Adzuna's survey Canada's largest city falls behind not St. John's but another Atlantic Canadian city: Halifax, which ranked sixth, with 3.2 job-seekers per job.
Other cities where finding work would be easier than in Toronto? Calgary, Edmonton, Lethbridge, Regina, Red Deer, Saskatoon and Winnipeg. Notice the pattern? With the exception of Halifax, all the cities that have better job markets than Toronto are out west.
So should Torontonians move to St. John's? Probably not (or at least not yet), but given the situation, there are certainly greener pastures out there these days.