This is Ivrea, Italy, a small town of 25,000 in the country's north. And every year, for a few days, it's home to roughly 500,000 kilograms of fresh oranges.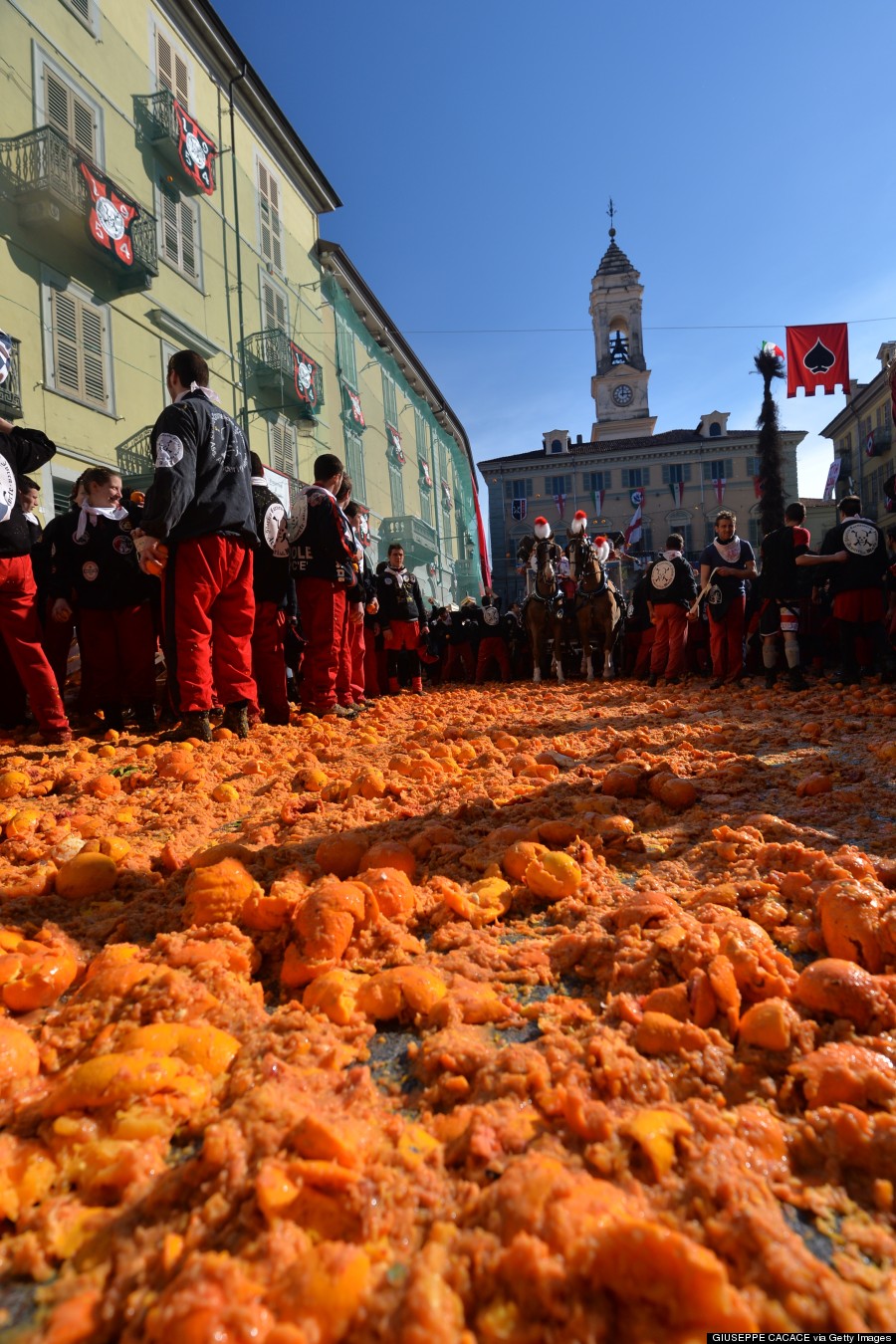 But these oranges aren't for eating or juicing. They're for fighting.
This is Carnevale Di Ivrea, better known as the Battle of the Oranges, and it is Italy's largest food fight.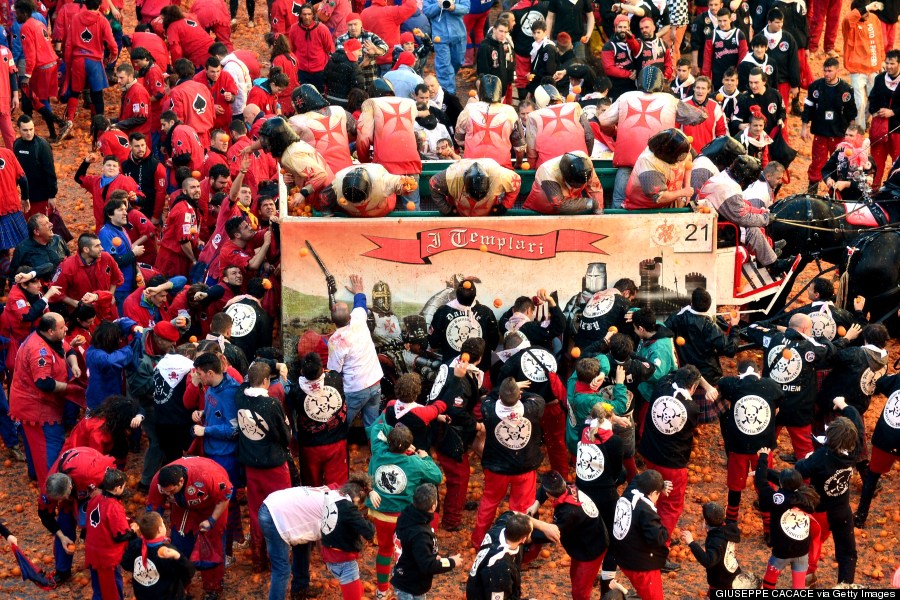 SUBSCRIBE AND FOLLOW
Get top stories and blog posts emailed to me each day. Newsletters may offer personalized content or advertisements. Learn more
The streets of Ivrea may run orange with pulp from March 2 to 4, but the festival actually hearkens back to a time when those same streets could have run red with blood.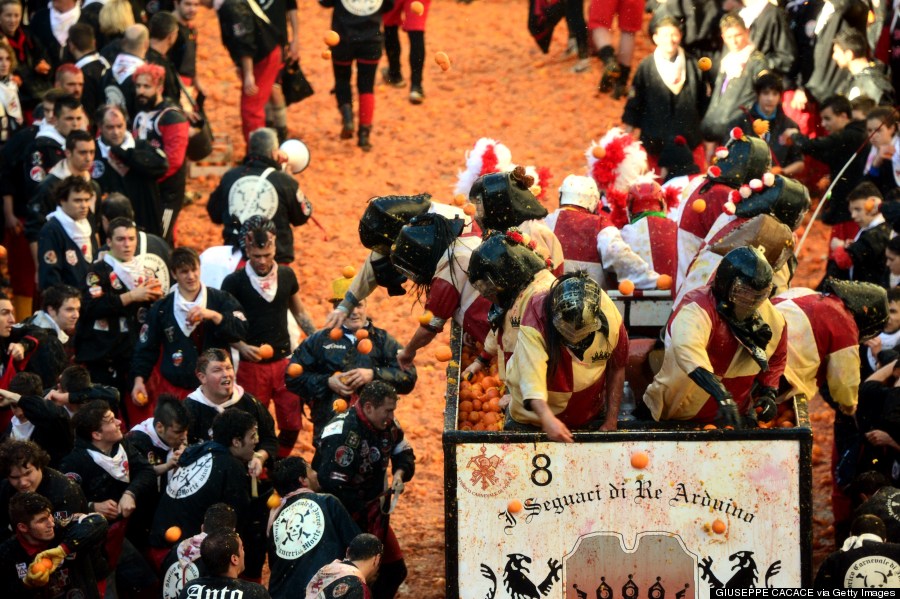 You see, Carnevale Di Ivrea pays homage to an ancient uprising between the town's villagers and its tyrant leader and his guards. The story goes something like this: Back in the 1800s, a civil war broke out between the townsfolk of Ivera and the Royal Napoleonic Troops, led by the hated tyrant Raineri di Biandrate.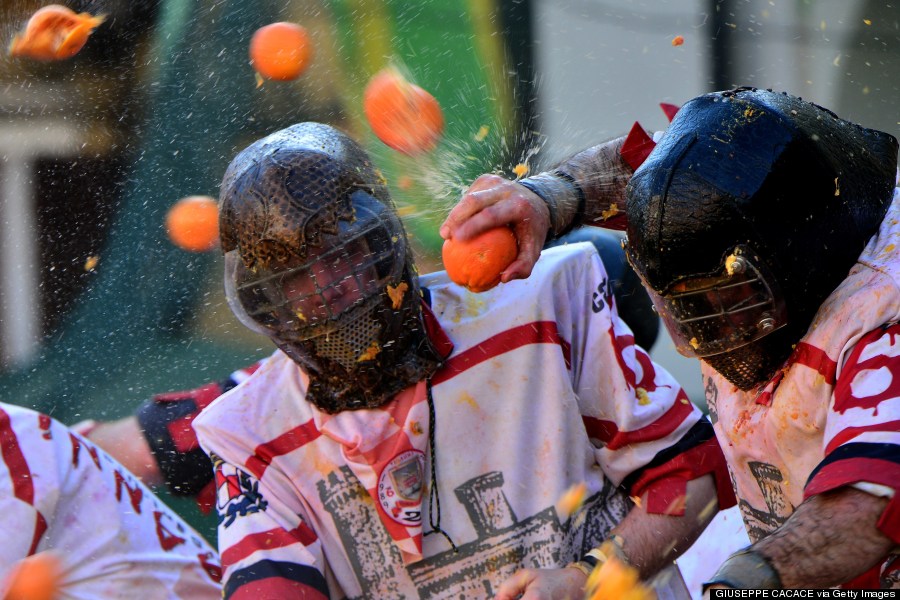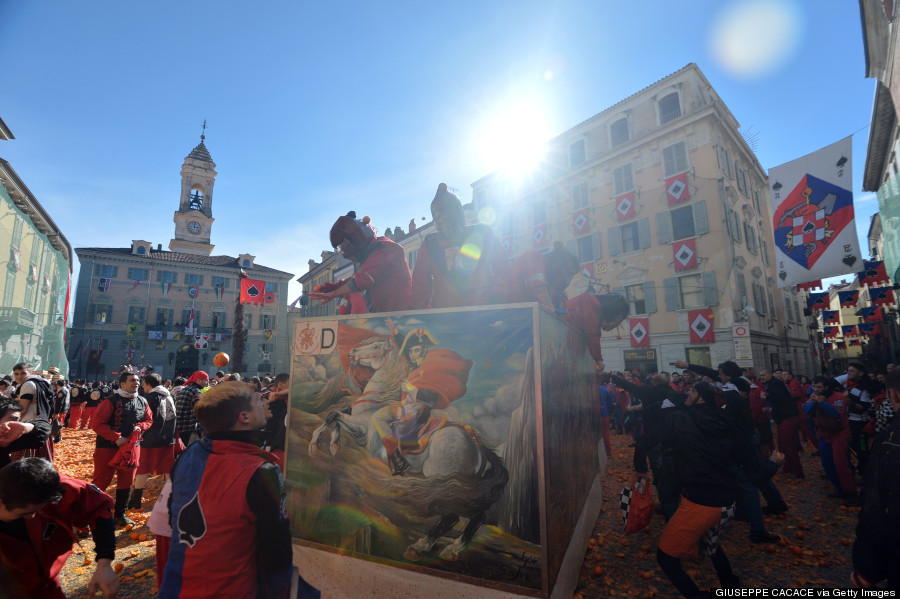 It's said that di Biandrate tried to rape the daughter of a local miller on the eve of her wedding. Things got ugly and the daughter ended up decapitating the tyrant. His troops then tried to take the town by force as an act of retaliation, and the people revolted using stones and other crude weapons and eventually drove the soldiers out.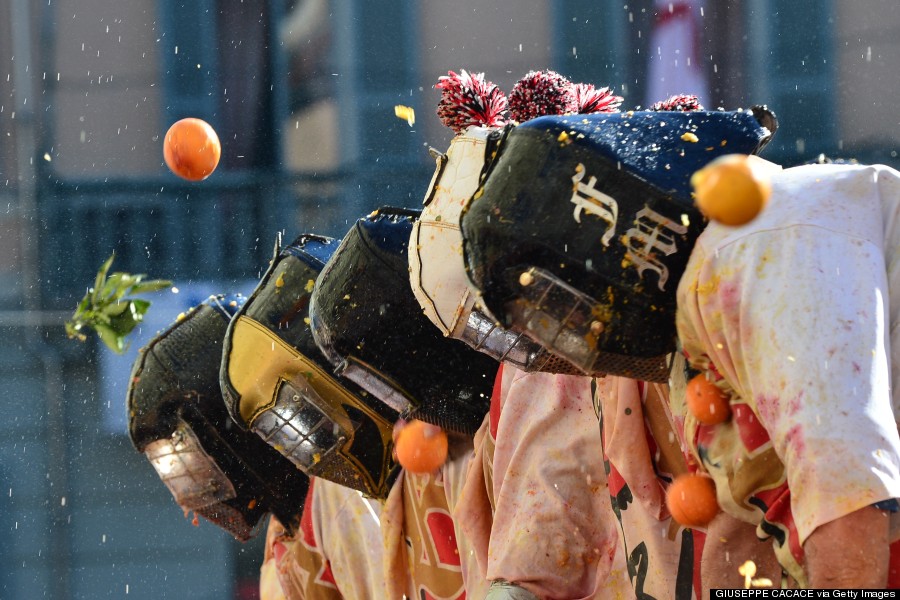 Today, participants trade slings and arrows for oranges. And while things may look like chaos, there's actually a fair amount of planning involved. There are typically nine teams, one group who dresses up in armour to represent the old guards, and even a young woman selected to represent the Mugnaia (the miller's daughter who sparked the whole revolution).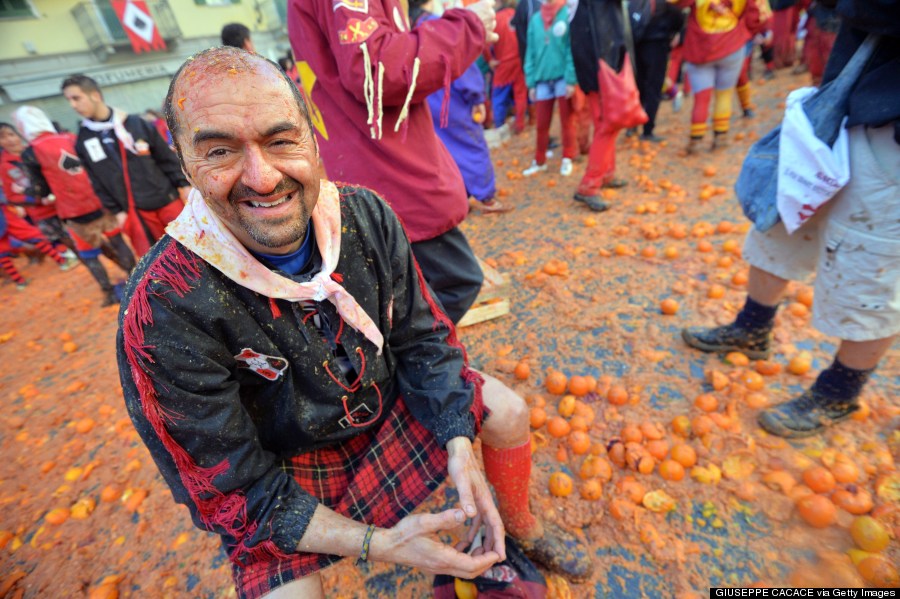 Everything wraps up with a grim funeral procession to "mourn" those lost in battle, and, well, a lot of orange-sized bruises. There's also an option for people to watch from the sidelines, but they not allowed to throw any oranges during the fight.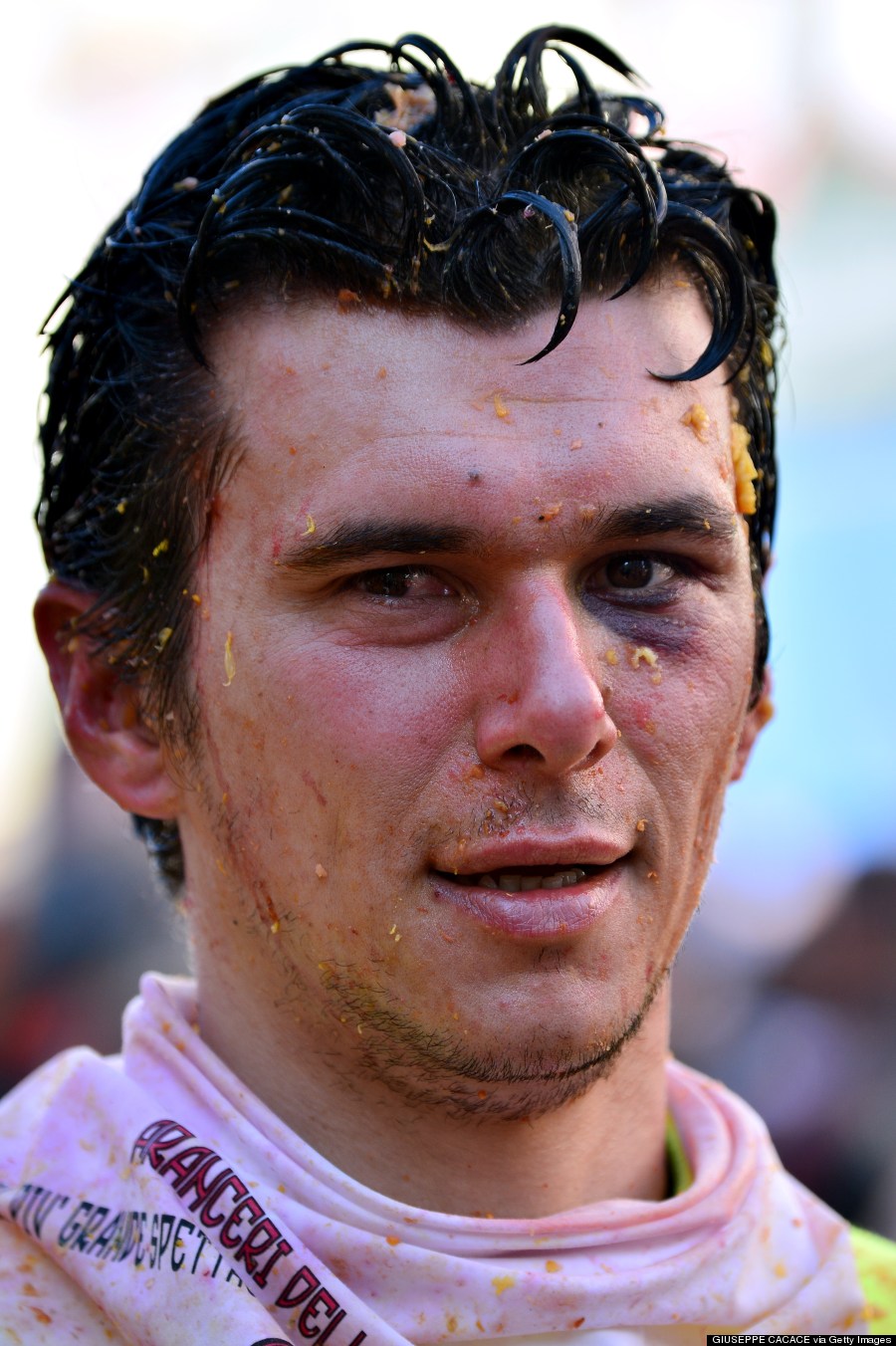 Yup. We'll definitely stick to watching.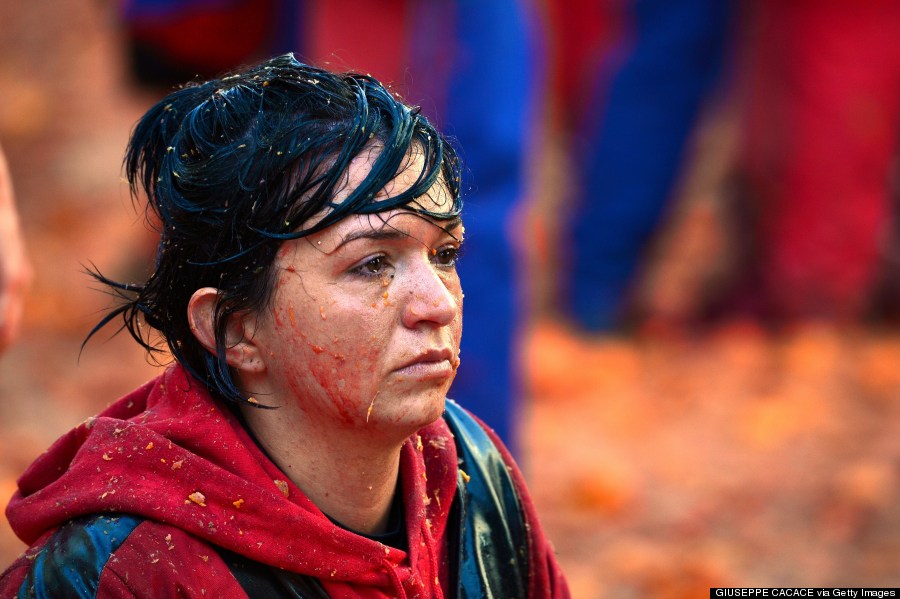 Like this article? Follow us on Twitter
Also on HuffPost
Destination Unknown: Where To Go In March