Facebook
If Dale Carnegie was around to write a sequel to his 1936 classic, How to Win Friends and Influence People, surely exposing oneself to ridicule over social media would be among his platitudes.
Just look at what its done for a 20-year-old beautician from England.
At about 1:30 am on March 3, she sent a tweet from the heart, if not necessarily the brain.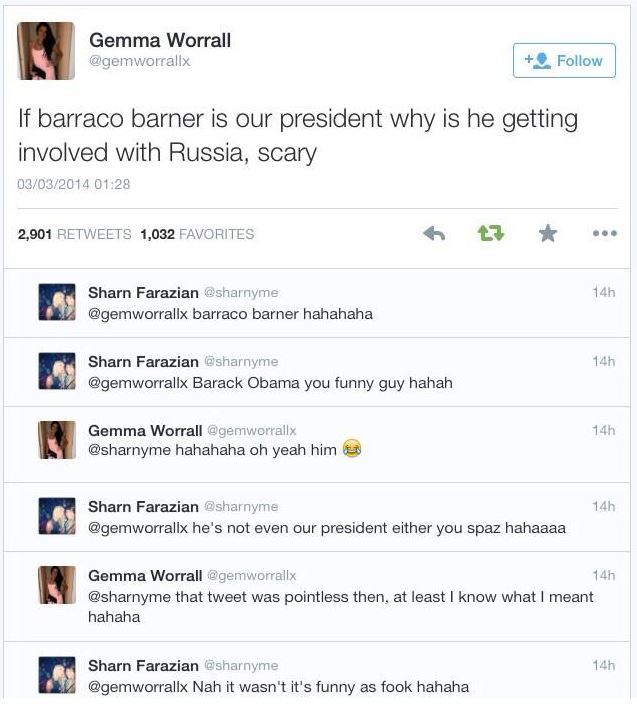 In less than 140 characters, Worrall managed to mangle the name of the American president, confuse him with Britain's own leader and become something of an internet sensation along the way. For better or for worse.
Within hours, she had been retweeted thousands of times.
By the next morning, she had gone supernova.
why am I waking up to shit loads of mentions because i spelt the presidents name wrong, worlds gone crazy.

— Gemma Worrall (@gemworrallx) March 4, 2014
Cue the mean headlines.
'Dizzy Brit becomes butt of Twitter jokes after hilarious tweet,' read the Mirror's March 5 headline.
The Daily Mail filed the episode under 'Dumb Britain.'
And, of course, social media.
London called.
@gemworrallx im reading about you in London,. this is weird!

http://t.co/WvR0pcRHSN only you!

— Lauren Marshall (@laurynmarshall) March 3, 2014
And an Aussie tweeted morning salutations:
@gemworrallx Hey you've made our national news here in Australia! Congritulotions!!!!!

— AudioNoirOfficial (@AudioNoir) March 4, 2014
Belgium checked in:
@gemworrallx You made the Belgian newspaper! #Congratz http://t.co/0ufPYOTxCt

— Hans Mertens (@wattooto) March 4, 2014
The virtual slings and arrows -- none bear repeating here -- of outrageous misspellings came hard and fast.
Yet, in spite of being Twiticuled the world over, Worrall seems to have taken it all in stride.
some people find it funny, some people are getting personal.. either way I don't care I haven't stopped laughing at myself all day

— Gemma Worrall (@gemworrallx) March 3, 2014
Indeed, Worrall has since blamed the egregious misspelling -- but not the complete disengagement from factual reality -- on her iPhone's auto-correct feature.
"I'll admit I'm not into politics," she told the Blackpool Gazette. "I was watching the news and tried to act clever but it back-fired.
"I've had a lot of abuse about the tweet but only from people who don't know me."
So, what do you think? Unfairly pilloried in social media? Is Twitter just a big old bully?
Also on HuffPost