The Dorothies get to stay in Kansas after all.
The two Vancouver heritage homes were facing the fate of the Wicked Witch of the West back in October, but a local developer recently announced that they will be saved.
The two mirror image homes, currently located at 2837 and 2827 W. 43rd Ave., will be moved just a few blocks away to 2820 West 41st Ave., according to a press release from Trasolini Chetner Construction and Development.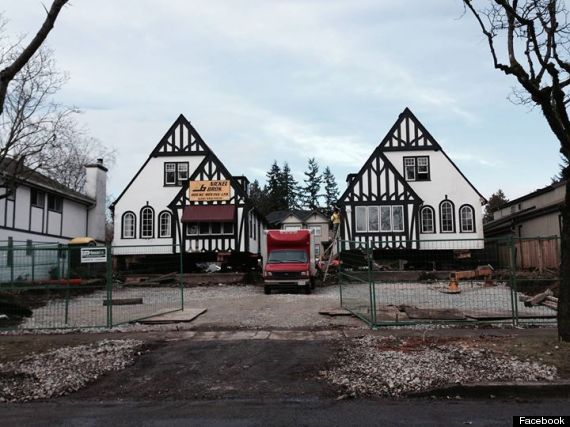 Photo from the Vancouver Heritage Foundation Facebook page
Built in 1931, the Tudor style homes were named after the women who originally lived in the homes (yes, adorably, both were named Dorothy). The Dorothies have B status on the Vancouver Heritage Register, meaning they have some historical or cultural significance but are not protected from demolition.
The home's owners originally wanted to tear them down to make way for new buildings. Instead, a run-down house on 41st Avenue is being replaced with the two heritage homes.
Once at their new location, the Dorothies will be restored, and two new townhouse buildings will be built at the back.
The move is scheduled to take place next week.
Like this article? Follow our Facebook page

Or follow us on Twitter
Also on HuffPost
'The Dorothies' Vancouver Heritage Homes