We've never seen Peggy Olson like this before!
Elisabeth Moss covers the March 10 issue of New York magazine and girl looks ah-mazing posing topless in jean overalls for the sexy cover.
The 31-year-old is promoting "Mad Men's" seventh and final season (the first part debuts on April 13) and in the issue, talks about what's next for her career after the AMC series ends as well as her "traumatic" marriage to ex-husband, Fred Armisen.
"Looking back, I feel like I was really young," Moss tells the mag, "and at the time I didn't think that I was that young. It was extremely traumatic and awful and horrible. At the same time, it turned out for the best. I'm glad that I'm not there. I'm glad that it didn't happen when I was 50. I'm glad I didn't have kids. And I got that out of the way. Hopefully. Like, that's probably not going to happen again."
And though the actress recognizes that she is closely associated with Peggy, she wants her fans to realize that she is a separate person.
"I don't actually work in advertising in the '60s. I'm an actor," she says. "I'm just a normal person who worries and stresses about stupid shit. I like to sleep in. I like sushi. I love what I do. I think acting is super-fun. I don't think it's something super-serious."
One thing the brunette is serious about is reading about fashion.
As the author of the New York profile jots down what she's wearing during their time together ("a loud fluorescent-pink-and-green zip-up hoodie over a short-sleeved peasant blouse, jeans with holes in the knees, and flip-flops"), Moss notes that she loves reading about what celebrities are wearing.
"That's my favorite part of ­articles. I always want to know what they're wearing. I want to know what Amy Adams wears to lunch."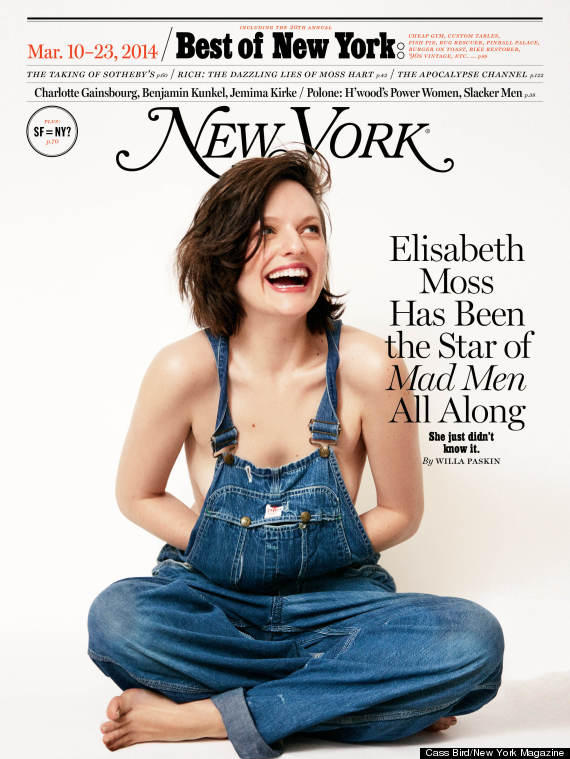 Also on HuffPost
Familiar Faces On "Mad Men"