A Facebook group called 'Creature Sightings,' which made fun of Calgary street people, has been removed from the social networking site after public backlash.
The group, in which members would post images of street people passed out, drunk, urniating or sleeping in public places, attracted the attention of police and the disgust of homeless advocates.
Tim Richter, president of the Canadian Alliance to End Homelessness, called the group "simply disgusting" and said the online torment is a new form of bullying.
In one video post, two young men harrassed an elderly homeless man by following him throughout downtown buildings while yelling obscenities at him — an activity they called "creature hunting."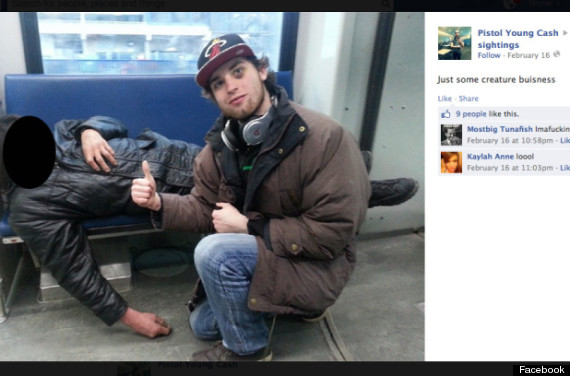 Sgt. Erin Partridge of the Calgary Police Service told CBC News investigators were monitoring the site to determine whether criminal offences occurred.
"We take this very seriously — that a website such as this is marginalizing our already vulnerable community members and is being viewed and actively engaged at and we really encourage members of the public not to further support it by going to the website," she said.
The group's founder, who goes by the name 'Pistol Young Cash' on the social networking site, told Metro Calgary the group's participants weren't solely out to harass and often offered their subjects money or gift cards to help them out.
"We are kind of using a shock/humour approach to also help raise awareness," he said.
Story continues below the slideshow
'Creature Sightings' Screengrabs
Richter, however, told CBC it's clear the group's activity exploits the city's vulnerable and it's up to Calgarians as a community to stand up for those being humiliated on the site.
"If we recognize people on that site, we should sit them down and say, 'This is not OK,'" he said.
Kris Innes, a member of the group 'People Against the facebook group "Creature Sightings," posted early Wednesday morning that he received confirmation Facebook had removed the page.
With files from the Canadian Press