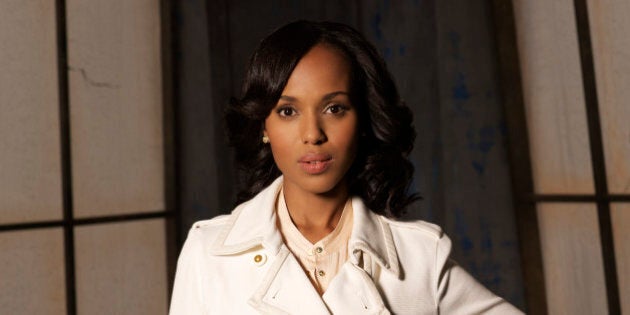 Spring is coming. It is, we promise. And to remind you as well as ourselves that winter can technically only last a certain amount of time, we've rounded up 10 of our favourite spring coats in pop culture to inspire you when and if you summon up the strength to go shopping for spring 2014 fashion trends.
Story continues below slideshow:
Spring 2014 Coats Inspired By Pop Culture
1. Character: Olivia Pope (Kerry Washington)
Arguably to be worn while either making sense of the chaos around you, or drinking an enormous glass of wine (that you somehow manage not to spill on yourself), Pope's token trench is a must-have in terms of spring jackets – even if you only wear it on fancy nights out/to boss up. Not to mention, trenches are both a staple coat and particularly on-point this season: designers like Michael Kors and Jason Wu showcased them in their collections, while French Connection carries the much more affordable version.
2. Character: Lindsay Weir (Linda Cardellini)
Show/Movie: "Freaks and Geeks"
We are all Lindsay Weir. Which is why her trademark oversize military jacket is a legitimate object of desire for each and every human being– especially if it's from an army surplus store (Because frankly, who doesn't want to seek refuge in their coat sometimes?) And if you're seeking approval of the fashion industry, breathe easy: while "military" this spring is a little more dressed up, you'll still find a place for what is arguably an outerwear staple.
3. Character: Angela Chase (Claire Danes)/Rayanne Graff (A.J. Langer)
Show/Movie: "My So-Called Life"
Okay, technically, no, an oversize plaid shirt is not a "jacket." But try telling anybody that when it's a little too cold for just a t-shirt and way too warm for anything else. Also, on the justifiable note, designers like Rodarte have rightfully hopped on the '90s resurgence wagon this season, proving the functionality of oversize plaid/why we like Rodarte so much. (Although bonus points to you if you just pick up a piece from the men's section at Value Village for five bucks.)
4. Character: Julia Sullivan (Drew Barrymore)
Show/Movie: "The Wedding Singer"
"But!" you cry. "Everybody has a jean jacket already! And are you really citing a 1998 Adam Sandler movie as a source of fashion inspiration?" 1) Maybe they don't, and 2) Absolutely we are. Remember: "The Wedding Singer" is awesome, and Julia Sullivan's jacket was the catalyst for Robbie's realization that he liked her in the first place. Also, bask in the glow of denim's durability and popularity: despite how long it lasts, brands like DKNY are still bringing it back for spring 2014. Now, please enjoy a complimentary meatball.
5. Character: Mary Richards (Mary Tyler Moore)
Show/Movie: "The Mary Tyler Moore Show"
Jacket: Short trench coat
There are a million types of trench coats, and by that we mean two, and here is the other one. And as proven by Mary Richard's guest spot on "Rhoda," a short trench not only works with even the most casual outfit, but, like it's full-size counterpart, it's also timeless. Fossil's answer to this mid-'70s masterpiece is embellished with leather, but even a leather car coat at a thrift shop can and will suffice for full 1976 effect.
6. Character: Blossom (Miyam Bialik)
True, vests are also not technically jackets (we can hear you from hear, '90s haters), but, if you can carry them off, they're the perfect middle-ground for days leading into summer when you're not quite ready to say goodbye to layers. Also, fashion shows this spring couldn't get enough of them: Rebecca Minkoff, Rebecca Taylor, and Suno all included them in their collections, proving we're ready for another Gap ad: everybody in vests.
7. Character: Tori Scott (Leanna Creel)
Show/Movie: "Saved By the Bell"
Kelly may have been meant for Zack, but Tori brought some much-needed attitude to the strangely prep-centric Bayside High. Enter: her leather jacket, that she even wore overtop of her homecoming dress because, yes, she was cooler than everybody. Fortunately, leather jackets will always be the right decision regardless of year or season, but even Versace channeled their inner Scott this season, pairing leather with heels and pencil skirts. Zack Morris is somewhere, pining.
8. Character: The Pink Ladies (Stockard Channing, Didi Conn, Jamie Donnelly, Dinah Manoff)
Correct: the Pink Ladies wore jackets that were more baseball-oriented/generally athletic than "varsity," but excluding them from this list would be a crime worthy of having to justify why "Grease" isn't a terrible movie. (Sandy has to wear tight pants for him – come on, guys!) However, the ode to athleticism made a mark on spring 2014 thanks to designers like Prabal Gurung who maintained the varsity look from last year by ushering it into this season. (Not that anybody needs to justify his or her jacket choices based on trend, but if you want to, your time has come.)
9. Character: Dorothy Zbornak (Bea Arthur)
Show/Movie: "The Golden Girls"
Every oversize blazer you see only gives the spirit of Bea Arthur strength. And if you also would like to offer sarcastic quips in response to the stupidity of people you know, make like Rag & Bone, Dior, Marc Jacobs, or any other designer, and don the biggest blazer you can. Bonus points if shoulder pads or perfume from the '80s is involved.
10. Character: Elaine Benes (Julia Louis-Dreyfus)
Jacket: Oversized lab coat
Elaine Benes (circa seasons one through three) is the poster person for oversized everything, particularly because that's what the early '90s demanded. (Or you were shipped back to 1986.) Now, like Elaine, you can pair oversize coats inspired by Jason Wu and Maison Martin Margiela's collections, atop your oversize floral dresses, skirts, or dress pants. Preferably while eating only the tops of muffins and destroying the business ventures of soup Nazis everywhere.