Montreal artist Marina Totino committed a creative act of electoral sign defacement.
Totino drew a hijab on a Pauline Marois poster she spotted in Montreal.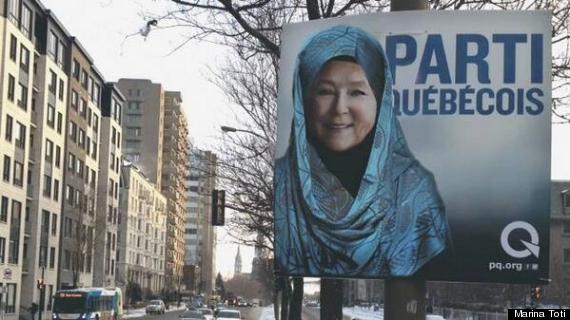 Of course, this isn't the first time someone has photoshopped a hijab onto Pauline Marois.
The current political climate in Quebec also seems to be more heated than usual. A Facebook group has popped up collecting examples of electoral signs that have been defaced, most of them in creative ways.
Marois and the Parti Quebecois have been drumming up support for a Quebec Charter of Values that would limit public employees from wearing religious symbols and garments such as hijabs, turbans and yarmulkes.
Critics of the charter say that it would make minorities in Quebec into second-class citizens and would be a violation of their human rights.
The PQ argue that the charter would help the province's cultural cohesion and encourage secularism.
CORRECTION: An earlier version of this story gave the artist's name as Marina Toti. Her name is Marina Totino. We regret the error.
Also on HuffPost