Alberta's housing market is set to surge in 2014, making it a rare bright spot in a country where markets have generally stagnated, says a new report.
A new study released by BMO Capital Markets Friday says barring a sudden drop in oil markets, home construction and prices will continue to rise in Alberta in the coming year.
Bank of Montreal economist Robert Kavcic, who authored the report, told the Globe and Mail Alberta's housing market, led by Calgary, is currently on a different course than the rest of the country.
"What was traditionally a 'West versus the Rest' comparison has now morphed into 'Alberta versus the Rest,'" he said, adding that Alberta's 2014 GDP forecast, combined with strong employment growth, is giving Alberta momentum, while much of the country has stagnated.
The report says sellers are back in control, after a population surge combined with a steady decline in new listings, has lifted the sales-to-new listings ratio "miles above the national average."
However, despite the strong ratio, the reports says Alberta's "a long way away from the extreme conditions seen in 2006/07, when almost all new listings were being immediately absorbed, and it's unlikely that the market is destined to revisit those conditions."
Story continues after the slideshow
LOOK: What $5 Million Will Buy In Calgary
According to the report, the current house price in Calgary of $443,000 (using a three-month rolling average) is higher than the 10-year average of $369,000 and the peak of $437,000 reached in 2006/2007.
The BMO Home Buying Report released last week reported 20 per cent of Calgary's MLS residential sales in February were above list price and that 38 per cent of Calgarians aren't afraid to enter a bidding war to get the house they want.
"Lots of people are prepared. They know what their high is . . . Calgary has the biggest income so we're willing to spend more if we have to and hopefully we've been conservative before we go in and we know we have that room to bid higher," Laura Parson, mortgage expert with BMO Bank of Montreal, told the Calgary Herald.
A chart issued by BMO Economic Research Friday morning notes Calgary has been the main driver in Canadian new home prices, rising 1.3 per cent in January alone, and seven per cent year-over-year – the strongest gain in almost seven years.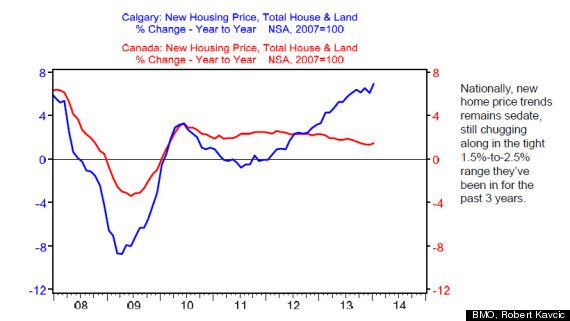 Like this article? Follow our Facebook page

Or follow us on Twitter