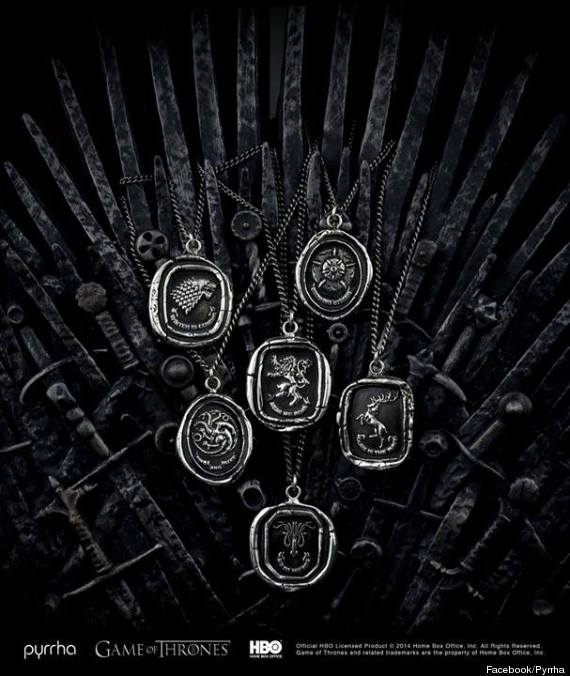 "Game of Thrones" fans will be able to wear their love for the HBO show when an official line of jewelry — designed by Vancouver-based brand Pyrrha — debuts next month.
Sterling silver and bronze talisman necklaces and rings inspired by the series will sell for between $98 to $900.
Each talisman will include an "interpretation of the sigils of the powerful houses of Westeros — Targaryen, Stark, Baratheon, Tyrell, Lannister and Greyjoy," stated a press release on Thursday. (A sigil is a magical emblem or symbol.)
The unisex collection will be available on HBO's online shop, Pyrrha's website as well as its flagship store in Los Angeles starting April 4 — two days before "Game of Thrones" returns for its fourth season.
Named for a figure in Greek mythology, Pyrrha is best known for its symbolic jewelry handcrafted from antique wax seals. Started in Vancouver by Wade Papin and his wife Danielle Wilmore, Pyrrha has become popular among celebrities including Jennifer Lawrence, Brad Pitt and Taylor Swift.
"We were thrilled when HBO approached us to create an official Game of Thrones jewelry line," said Papin in a statement. "While designing the pieces, we felt it was important to embrace the spirit of this groundbreaking series while still retaining the signature Pyrrha style."
Last May, HBO announced a limited-edition "Night's Watch" timepiece inspired by the military order of the same name in the series, reported the LA Times. Made by Swiss watchmaker Ulysse Nardin, it cost $10,500.
Like this article? Follow our Facebook page

Or follow us on Twitter
Also on HuffPost
'Game Of Thrones' Season 4