Janet Echelman's sculpture for the TED Conference officially lit up in downtown Vancouver on Saturday night and the results are breathtaking.
The 745-foot wide installation is made of soft netting, and suspends between the roof of the Fairmont Waterfront Hotel and the Vancouver Convention Centre (where TED Vancouver is being held). Onlookers can control the lighting of the piece with their cellphones thanks to a partnership with Google Creative Lab's Aaron Koblin.
Thank you Janet Echelman for your beautiful aerial sculpture in #Vancouver http://t.co/yrNQxgulau #PubicArt @TedTalks pic.twitter.com/Le9nHWGt10

— JehniferBenoit (@jehnbenoit) March 16, 2014
Echelman told the TED blog that the artwork, titled "Skies Painted With Unnumbered Sparks," is "like a custom-knitted sweater for the city."
The Boston artist has created pieces around the world, including one in front of the Olympic Oval in Richmond.
The sculpture will be displayed in Vancouver until March 23, and then will travel to different cities.
Tickets to the TED Conference are sold out, but talks will be live streamed for free at various community centres, libraries, schools, and public plazas.
Check out some more photos from downtown Vancouver:
The massive Janet Echelman sculpture outside the TED2014 venue. pic.twitter.com/M3WX5HOAX9

— Duncan Davidson (@duncan) March 16, 2014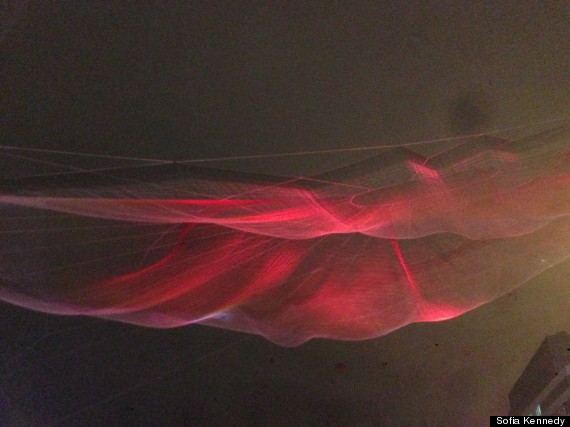 Like this article? Follow our Facebook page

Or follow us on Twitter
Also on HuffPost