Sarah Thomson is making another run at Toronto's top job.
The publisher of Women's Post, who also ran in 2010, made waves last year when she accused Mayor Rob Ford of grabbing her "ass." Thomson posted a photo to Facebook from the night of the alleged incident in which Ford looks disheveled, a large stain clearly visible on the front of his shirt.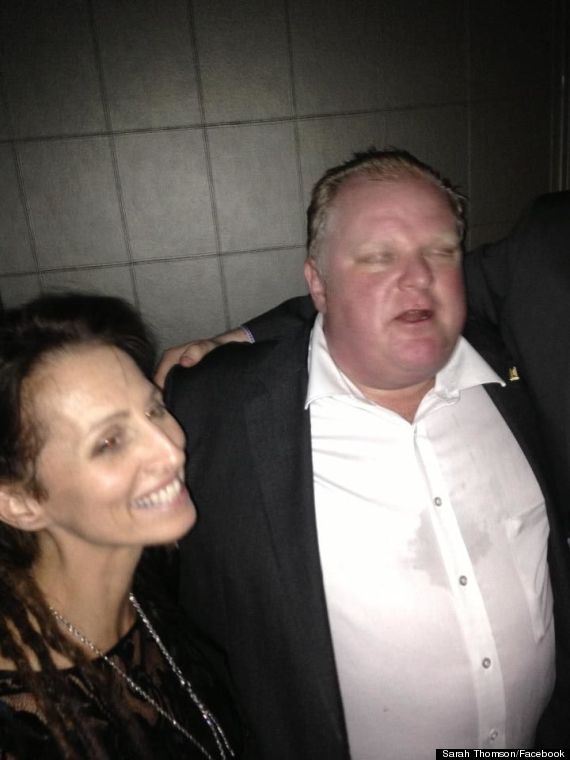 Ford denied the accusation was true and said he was surprised a woman who aspires to be mayor would "cry wolf."
Thomson showed up at City Hall in a horse-drawn carriage Thursday to file her paperwork, according to The Globe and Mail, and said she plans to stick with the race until the end. She pulled out early in 2010.
Arrives in horse and buggy. RT @cbcsteve: Here is Sarah Thomson arrival at City Hall to announce the run for mayor pic.twitter.com/1VttDYbdiC

— Paige T. MacPherson (@paigemacp) March 20, 2014
At City Hall, Thomson told reporters that she will push for road tolls on the Gardiner and Don Valley Parkway highways to help pay for public transit. She also said she will prioritize the construction of a downtown relief subway line if elected.
Thomson has been an outspoken advocate for more public transportation and recently published a poem that plays on her principal policy preoccupation and gives a good indication of where her campaign is going.
Stop and go. Stop and go


I want a city with transit below


I want a city with underground trains,


Light rail or subway, they're almost the same.


I want a city that is filled with a passion


to dream of a future not cramped by inaction.
She proceeds to give her take on the "rent is too damn high" theme.
It's hitting all cities from Dallas to Kent


the rich who come in are increasing the rent


It's time to say yes to those who suggest


Toronto is better, when we all just invest.


It's hard to predict the needs that arise


it's hard to have vision and keep the same stride.
And she gets in a jab at Ford.
It's hard to determine the truth from the lie


And easy to blame it all on "that guy"


We must come together, unite in one stand


To build underground transit for each woman and man

Thomson was one of the first to suggest Ford might have a drug problem. After the alleged groping incident, she said she thought Ford had been on cocaine. Toronto's mayor has since admitted that he has used crack cocaine.
When Thomson exited the 2010 mayoral race, she was in dead last among a field of candidates that included Ford, former Ontario MPP George Smitherman, Councillor Joe Pantalone and former executive Rocco Rossi.
Thomson endorsed Smitherman, Ford's main rival in the race.
Despite dropping out, her name remained on the ballot because she quit late. She received 1,883 votes. Ford received 383,501.
Thomson's run-ins with Ford have led to criticism that she uses the mayor to gain publicity for herself.
Thomson was lambasted in June of last after she teased that Women's Post had "the video."
"Just trying to get our video server embedded... releasing it tomorrow at noon," she wrote on Facebook.
Naturally, many assumed she was referring to a video of Ford that shows him smoking what appears to be crack cocaine.
Instead, she posted a music video bemoaning Toronto's transit situation.
In November, she appeared on CNN with Piers Morgan to discuss the Ford scandal.
When Morgan questioned Thomson about using Ford as a means for self-promotion, she said her focus is on Toronto.
"It's all about Toronto. And I think we have to start thinking about Toronto. I've always been about how we put Toronto on the map, how we make Toronto a world class city. Rob is about Rob," she said. "Rob has a lot of problems, and he has to get them fixed."
The field of candidates in Toronto is becoming crowded. Ford, John Tory, Olivia Chow, Karen Stintz and David Soknacki are the most prominent, but many more fringe candidates have registered as well.
Toronto goes to the polls on October 27.
With previous files
Also on HuffPost