It's not every day that you see a goalie shake the junk in his trunk.
But fans of the Columbus Cottonmouths of the Southern Professional Hockey League received a rare treat when goaltender Andrew Loewen did the "Wobble" with the team's cheerleaders during second intermission on March 15.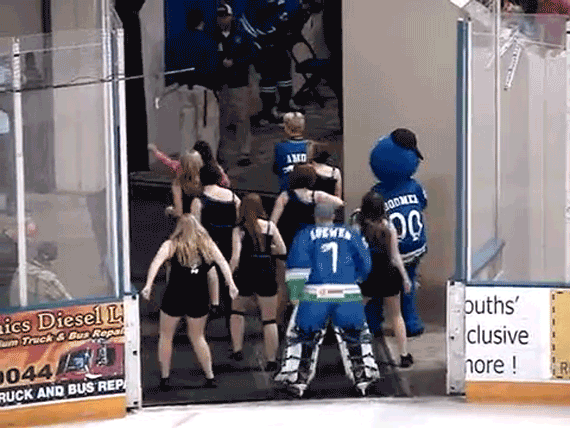 There was reason for celebration: Shannon Szabados, the goalie who backstopped Canada to a gold medal in women's hockey at the 2014 Winter Olympics, made her debut with the pro men's team that night. Loewen, who is from Winnipeg, backed her up.
Loewen's dance racked up almost 630,000 views on YouTube since the video was posted on the site on March 16.
This wouldn't be the first time that hockey players showed off their dancing skills.
Vancouver Canucks goaltender Jacob Markstrom boogied to the Vengaboys when he played for the San Antonio Rampage of the AHL:
And hockey legend Jeremy Roenick got down to the Bee Gees when he played for the Los Angeles Kings: