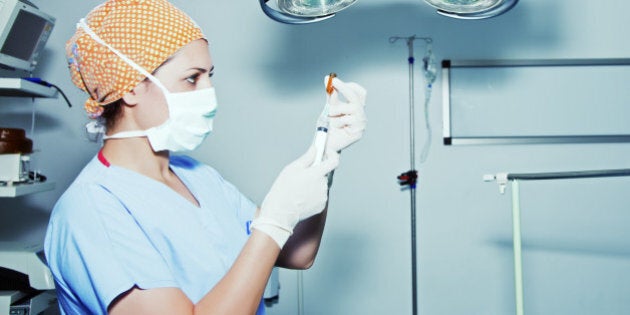 With the recent confirmation of a case of measles in Hamilton, Ont., the number of cases of the virus across Canada has grown.
An adult in Hamilton, which has a population of 500,000, has tested positive for the virus, and could have exposed others, CBC reports. The site has a list of locations in Hamilton, Burlington and Mississauga where the patient had been over the last nine days, including spaces that cater to children.
According to the Public Health Agency of Canada, measles is a highly infectious disease spread by direct contact or secretions from an infected person's nose or mouth. The most apparent outward symptom of measles is a rash that begins on the face and moves downward, which usually appears three to seven days after other viral symptoms, like a fever, runny nose, irritability and red eyes/sensitivity to light.
Vaccines for measles are given at 12 months as part of a shot that includes measles, mumps and rubella, and a second dose at 18 months or four to six years of age. For that reason, children under the age of one are particularly vulnerable, as are pregnant women and those with compromised immune systems. Measles can be fatal, and the World Health Organization reported 122,000 deaths from measles globally in 2012.
Lack of immunization is being noted as a cause for concern.
"It's in those pockets of unimmunized or under-immunized kids where measles can, because it's such an infectious disease …. get into those populations," Dr. John Spika, director general of the centre for immunization and respiratory infectious diseases at the Public Health Agency of Canada, told the CBC.
The National Advisory Committee on Immunization recommends getting immunized for measles, though vaccinations are not mandatory for a child to enter school, notes the Public Health Agency. If parents choose not to vaccinate their child, the child may be told to stay home from school if there is an outbreak of disease.