AP
Toronto likes to think of itself as a city of superlatives: It once had the world's tallest free-standing structure; it now has the most booming condo market in North America, and the second-best reputation of any city in the world (Rob Ford notwithstanding, apparently).
But here's a superlative the city would rather not see: It has seen the worst productivity growth of 12 major North American cities surveyed in a recent report.
According to a report from the Toronto Region Board of Trade and the Institute for Competitiveness and Prosperity, the metropolitan area — which accounts for nearly one-fifth of Canada's GDP — saw productivity per worker shrink 6 per cent between 2000 and 2010.
That means the average Toronto worker produced 6 per cent less wealth in 2010 than they did in 2000. Of 12 U.S. and Canadian cities studied for the report, Toronto was the only one to have seen negative productivity growth, even lagging behind supposedly economically weaker Montreal.
Roger Martin, co-author of the report and a former dean of the Rotman School of Management, presented the chart below during a speech last week.
"This is a disgrace chart as far as I am concerned," he said, as quoted at The Toronto Star. "If anyone needs motivation to say 'Toronto needs to do something,' this is the chart."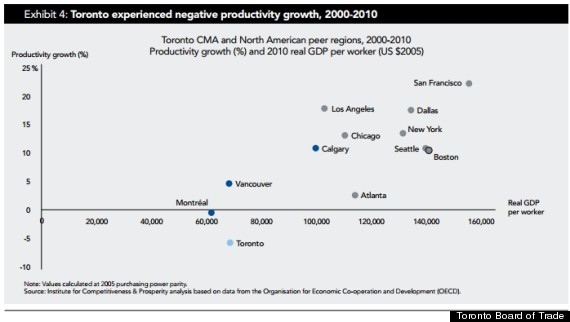 The news seems to contradict one of Rob Ford's key talking points — that the city has been booming on his watch.
"Far be it from me to contradict data at which Mayor Ford is pointing," said Martin in an interview with the Globe and Mail.
"There are cranes. I can see lots of cranes from my office window, and unemployment has done reasonably well by North American standards … But to me the real measure of the might of an economy … has to do with, are its people producing a lot of value-added or a little value-added?"
Economists generally fret when they see trouble with productivity numbers. That's because growing productivity is closely linked to growing wealth. Economies with lagging productivity will eventually see lagging wages and closing factories.
The report lays out an economic strategy for the city that sets a goal of increasing productivity by 10 per cent by 2025. It urges strengthening the core "business clusters" that drive Toronto's growth — financial services, information technology, processed food, education/knowledge creation and life sciences.
Martin stresses that innovation is key to growing productivity.
"We are in an era where cities are going to win or lose. Do you want to be Detroit [and other] cities that are on this downward incline?" he said. "No, you don't. You want to be Seattle … There is no route to that kind of success as a city long-term without innovation."
Also on HuffPost
10 Things Toronto Can Still Be Proud Of Despite The Crack Scandal