OTTAWA — NDP Leader Thomas Mulcair walked away from reporters Wednesday when asked to clarify his party's stance on the oilsands and the conflicting view of a possible NDP candidate.
Two potential NDP candidates in coming byelections in Trinity–Spadina and Fort McMurray–Athabasca appear to have very different opinions on the role that Alberta's oilsands should play in Canada's economy.
NDP organizer turned Trinity–Spadina hopeful candidate Joe Cressy has campaigned for years against "tarsands" development. He has called it "the most environmentally destructive project in Canada, if not the Earth," and has lobbied for an end to federal support for its production. The Liberal party says Cressy was behind an anti-oilsands video game that surfaced during the last election, where players got to squirt Prime Minister Stephen Harper and Michael Ignatieff, then the Liberal leader, with oil from the "dirty tarsands."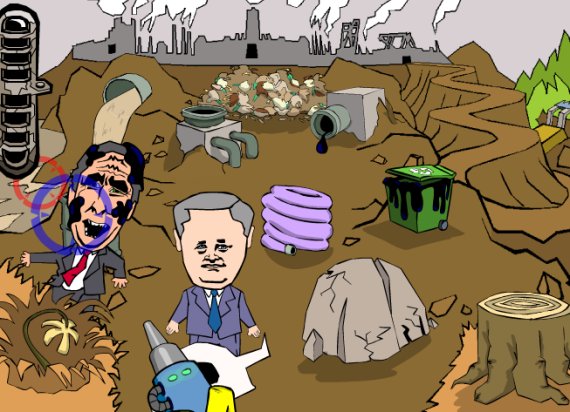 (Tarsandwatch.org)
The NDP candidate by acclamation in Fort McMurray–Athabasca, however, is a keen supporter of the oilsands. Lori McDaniel works nights driving a heavy hauler for Suncor Energy and believes that Canadians need the wealth produced from Alberta's resources.
In an interview with The Huffington Post Canada on Wednesday, she said it is hard to hear people all over the world criticize the oilsands while not fully understanding the issue.
"My view of the oilsands is that it is absolutely necessary. I work right in it. I operate the heavy equipment in the mine. We need to make sure that it is sustainable, that it is here for a long time.
"Environmentally, we have to be responsible, but it is something that is absolutely benefitting a lot of people all over the country," she said in a phone conversation.
McDaniel is in favour of strong federal environmental regulations but she says it is up to government, not companies, to lead. She blames the Conservative government for not pushing ahead on regulation.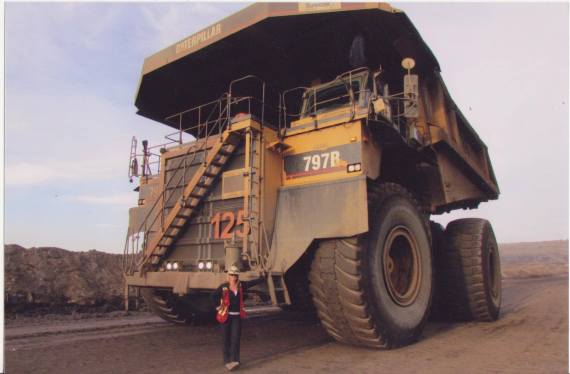 Lori McDaniel (Photo credit: Facebook)
She said she is disappointed when people such as Cressy do not understand the benefits of the oilsands.
"It is definitely a good thing for the country and the economy," she said. "We just have to be responsible with it."
McDaniel believes her position is in line with the NDP policy, and she feels that Mulcair agrees that the oilsands development must continue. Mulcair has pledged in previous statements that the NDP "will be a partner with the development of energy resources." McDaniel met with the NDP leader when he visited the area, and said she decided to run because she is concerned with the growing income gap in Fort McMurray.
McDaniel said she expected a vigorous debate in caucus over the benefits of the oilsands. Mulcair, however, dashed away from the discussion with reporters Wednesday and refused to respond to a question about Cressy's "pretty extreme views."
"Can you talk about this new challenge that's facing your party on oilsands development?" a reporter asked.
"Well, I'll tell you what you can do. You can send those [quotes] to me, because it's very difficult for me to stand here and hear you say somebody once said something on something," Mulcair said.
The NDP leader told reporters to send his staff the exact quote and he would be "very glad" to comment on it. He then cut the press conference short and left.
Mulcair's office responded to an e-mail request for comment with this statement:
"The position of the NDP is clear. Our natural resources are a tremendous blessing but they have to be developed in a sustainable way. That means making polluters pay for the pollution they create and rigorously enforcing environmental laws."
Cressy told HuffPost in an email that his views on the oilsands have changed.
"I obviously have grave concerns about the impact of the oil sands projects on the environment and on downstream First Nations communities," he said.
"I agree with Tom Mulcair's position and support the sustainable development of our natural resources. As New Democrats have consistently said, most recently when our leader launched the NDP's energy strategy, we have a plan that promotes economic growth without sacrificing social or environmental sustainability."
Byelections for Fort McMurray–Athabasca and for Trinity–Spadina could be called at any time. Liberal Leader Justin Trudeau is headed to Fort McMurray–Athabasca Thursday to support his party's candidate, Kyle Harrietha. The Liberals do not have a candidate in Trinity–Spadina yet after rejecting Christine Innes' bid for the nomination last month.
Also on HuffPost
What Mulcair's Really Saying