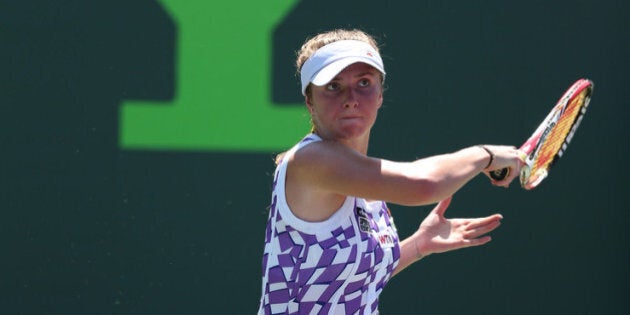 CHARLESTON, S.C. - Venus Williams couldn't dig herself out of a hole this time and lost to Montreal's Eugenie Bouchard 7-6 (6), 2-6, 6-4 at the Family Circle Cup on Thursday.
The 33-year-old Williams had fought back in each of her first two matches to advance. She seemed to follow the same game-plan in this one, rallying from a set down to win the second set and lead 2-1 in the third.
That's when the 20-year-old Canadian, took over, breaking Williams' serve twice down the stretch including the final game.
"I think I've shown to myself how mentally strong I can be," said Bouchard, seeded sixth at the Family Circle. "Today was really a mental battle. It was a bit ugly at times and tough on the court, but I fought through it."
Bouchard finished things off by reaching Williams' drop shot and pushing it into the open court for her first victory over the seven-time Grand Slam champion.
"She played a lot more consistently than I did," Williams said. "I think my errors really hurt me a lot today. Just a lot of up and down, a lot of errors."
Especially in two key stretches when it looked as if the 33-year-old Williams was ready to take control.
Bouchard was ahead 5-3 in the opening set when Williams rallied and held two set points in the tiebreaker. But Bouchard won the next four points, including a crisp backhand for a winner to secure the set.
When Williams moved on top in the third set, Bouchard did not panic but dug in to move on to her third quarter-final round this year.
"I've just kind of raised my game a little bit and was extra solid on those important points," Bouchard said.
Bouchard will next face second-seed Jelena Jankovic, the 2007 Family Circle champion who at No. 8 in world is the highest-ranked player remaining in the tournament. Jankovic defeated Croatia's Ajla Tomljanovic 7-5, 6-1.
Jankovic has reached the Family Circle quarter-finals in six of the past seven seasons. She's been beaten by a Williams sister each of the last two years, falling to Venus in 2012 and to Serena in last year's championship finals.
Jankovic struggled early as the 20-year-old Tomljanovic fought off a set point to tie the opening set at 5-all. Jankovic then won eight of the next nine games to move forward.
"I missed that overhead on my set point, which was kind of frustrating, and we levelled it at 5 5," Jankovic said. "But I was able to stay calm and regroup and finish that set. So that was very important."
Williams' defeat was part of a difficult day for past champions of the clay-court event. Along with 2004 winner Williams, two other previous Family Circle champs in Sabine Lisicki (2009) and Samantha Stosur (2010) lost third-round matches.
Lisicki, the fourth seed, fell to German countrywoman Andrea Petkovic 6-1, 6-0. Stosur, seeded seventh, was beaten by No. 9 seed Lucie Safarova 3-6, 6-4, 6-4.
The loss ends a run of success for the Williams family on the courts here. Sister Serena was the two-time defending tournament champion before losing Tuesday night. Venus played with the Washington Kastles on the green clay to win the 2012 World Team Tennis title.
Venus Williams had been bothered by an illness that she said limited her endurance this week. She had to come from behind in her first two matches here to face Bouchard and did not have enough stamina to wait out her opponent's solid, flat ground strokes.
"That kind of made it more challenging. I mean I think normally I would probably be able to challenge the points a little bit longer and just make her play more shots and just be more willing to play longer points," Williams said.
Williams was the 2004 Family Circle champion. She reached the semifinals here last year where she lost to sister Serena, the eventual champion.
Others advancing to the round of eight included third-seed Sara Errani, who outlasted Peng Shuai, 7-6 (6), 7-6 (5); unseeded Jana Cepelova, who defeated 13th-seed Elena Visnina 7-6 (4), 3-6, 6-3; and 12th-seed Daniela Hantuchova, who beat Teliana Pereira 6-2, 6-3.
Errani rallied in each of her sets to eliminate Peng, the world's top-ranked doubles player.
For Cepelova, it was her second big victory of this event after knocking off world No. 1 Serena Williams in a stunner Tuesday night.