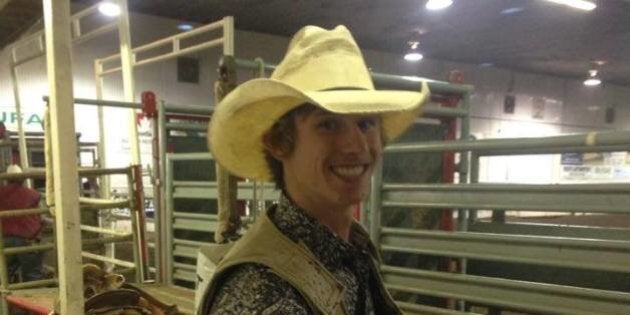 THORSBY, Alta. - Investigators say the death of a 16-year-old boy at a junior rodeo training event southwest of Edmonton appears to have been a freak accident.
Police say they were called to the Thorsby Haymaker Centre on Saturday afternoon after the boy was struck by a horse while practicing saddle bronc.
The boy's name hasn't been released but several news outlets, including the Calgary Sun and Metro Calgary, confirm it was Ben Steiger, a rodeo rider from Turner Valley, Alberta.
Members of the public performed CPR on him until police and EMS arrived, but he didn't survive.
"It was in the arena and his dad was right there and was with him the whole time — he was doing mouth-to-mouth, and there was a sports therapist doing chest compressions, and they had a defibrillator," spectator Sherri Morrison told the Calgary Sun.
"Everybody did every single thing that could possibly humanly be done."
RCMP Cpl. Corey Kyle says it appears the Steiger was bucked off the horse and ended up under the its hooves, but it's difficult to say for sure.
"The whole event happened as quick as the snap of your fingers. There were feet and hooves flying," Kyle said about cellphone footage taken of the accident.
"They opened the chute and the horse came out and it started to buck and he's on the horse for maybe two seconds before he got bucked off the front of the horse and he landed on his stomach and the horse came down onto his back and he got up, he let out a scream took a few steps and collapsed," RCMP Const. Brandon Friesen told CBC News.
The training event continued on Sunday.
Trainer Skeeter Thurston said Steiger had ridden steers competitively before, and while he was still learning the saddle bronc event, Thurston said the boy had some previous experience with it.
The saddle bronc event involves remaining in the saddle on a bucking horse after it is released from a chute.
Thurston said the horse bucked the boy about four times before he was thrown in the air. He landed in front of the horse and it looked like the animal was trying to avoid stepping on him, but couldn't miss him.
An ambulance was called right away. The boy's breathing was erratic at first, and then less frequent.
Thurston said the boy was wearing a protective vest and a mouth guard.
Thurston, a former rodeo competitor who said he has been teaching rodeo for 20 years, said it's the first death he's ever seen in bronc riding.
Students at his training events range in age from 15 to their early 20s.
"Before they ever get on a horse, we put them through a bucking machine, saddle horses, all kinds of different things to work their way up to getting on that first bucking horse."
"We try to minimize any chance of this kind of thing happening."
The remaining students plan to make a commemorative sticker in the teen's honour.
"He was gentleman in nature, a true cowboy."
With files from the Canadian Press