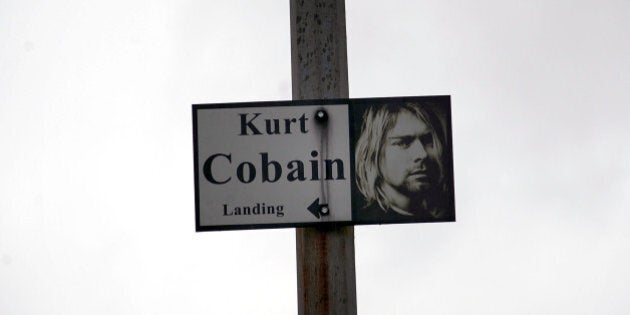 As Nirvana fans commemorate the twentieth anniversary of Kurt Cobain's death this month, noted music writer and Cobain biographer Charles R. Cross has called out the mayor and other local bureaucrats of Aberdeen, Washington, not only for their long delay in honouring Cobain in his hometown but for their utter ineptitude in finally trying to do so.
When we caught up to him in late March, Cross, who wrote 2001's award-winning "Heavier Than Heaven – The Biography of Kurt Cobain," was on his way to Aberdeen's local library to read from his latest book, "Here We Are Now – The Lasting Impact of Kurt Cobain." A respected Seattle music booster who was one of the first people to cover Nirvana in the local press, Cross launched both book tours in Aberdeen for sentimental and symbolic reasons.
"Aberdeen doesn't even have a bookstore," he explained. "That gives you an idea of the town that Kurt grew up in. There's some irony or serendipity in [reading at the library] because Kurt Cobain spent many hours as a teenager in that library. There was a period of two years in Kurt's life when he drifted from house to house and he spent a lot of time in this library."
Cross was supposed to appear at Aberdeen's garish ceremony to mark "Kurt Cobain Day" on Feb. 19 but was suddenly asked not to show up.
"Somehow the mayor of Aberdeen must have found out that my book was somewhat critical of the fact that the town hasn't done a lot to honour him," he said. "I was un-invited from Aberdeen 'Kurt Cobain Day' at the very last minute and, to some degree, that actually feels more like an honour because their attempt to honour Kurt ended up just being ridiculous where they sang 'Happy Birthday' to him and unveiled this statue that showed Kurt crying. Aberdeen and Kurt has been this very screwed up relationship for all of these years and continues to be so.'
So what compels Cross to keep reconnecting with this town full of people incapable of celebrating one of the most significant musicians in rock history and who, apparently, don't take kindly to meddling biographers?
"That's Aberdeen's public officials who, frankly, are idiots," Cross clarified. "They had done nothing to officially honour Kurt. Part of it is a hysteria that they think, because for a brief period of his life Kurt did drugs, if they actually name a street 'Kurt Cobain Street,' more kids will want to do drugs, which is absolutely absurd and ridiculous.
"The reason I go back is that there are many great people in Aberdeen who grew up with and knew Kurt, there are several people who essentially served as foster families for Kurt that were a huge influence on his life and music," he explained. "Those people really matter to me. It's worth driving there to honour them and recognize what they did to contribute to this man and, in some ways, our culture."