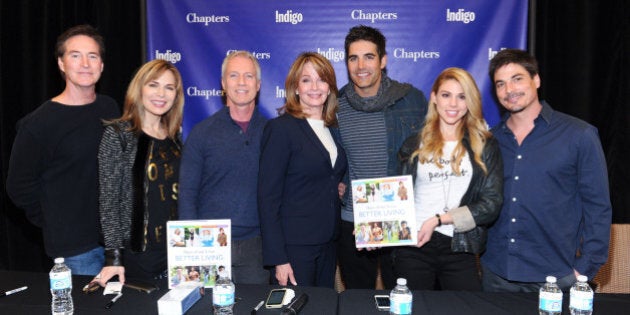 There is no doubt that soap fans are as fiercely loyal as they come. Many become so connected, so emotionally attached to their favourite daytime drama's characters that they often see them as real people. Aside from story spoilers, the most commonly asked questions soap stars get -- specifically the "Days of our Lives" cast members -- pertain to their personal lives, their lifestyles and their secrets to staying happy, healthy, balanced and fulfilled. Yes, the residents of Salem are fascinating folks but so are the people who play them ... with less drama, of course.
HuffPost Canada TV sat down with Deidre Hall, Drake Hogestyn and Kate Mansi at the Four Seasons Hotel in Toronto, and not only did we talk about the new book "Days Of Our Lives" Better Living: Cast Secrets for a Healthier Balanced Life and how their own lives are unmistakably different than their series counterparts, but Hall and Hogestyn recalled the groundbreaking exorcism (which Mansi has never seen -- gasp!) and what it was like to tape in the good ol' days. They each hinted about what's to come for Marlena, John and Abby and what they believe the future holds for Jarlena fans and soaps in general.
HuffPost Canada TV: The book is stunning. Each section is a wealth of information -- the recipes are fantastic, I love the bit about snacks, which I think most of have trouble with --
Drake Hogestyn: Snacking. Who has a problem with snacking?
Me. I tend to snack on bad things.
Hogestyn: What do you consider bad things?
Chips. Ice cream. Chocolate.
Kate Mansi: I think it's great to find substitutions, to really spend the time learning about nutrition. I'm such a chips person, I love salty [stuff], so if you're craving something crunchy, maybe it's satiating to have a carrot stick instead or celery and peanut butter.
[Deidre Hall shakes her head and mouths "No"]
Deidre Hall: I like what I like when I like it. And I'm spoiled. I work out a lot, I do a lot of healthy things and then I do the other stuff that I like. And I don't beat myself up for it.
Hogestyn: The whole idea of the book is anything in moderation but in America -- I don't know about Canada -- but in America we subscribe to "Anything worth doing is worth overdoing!"
Well, the book is wonderful. The inspiration and balance chapters, the various exercise and fashion tips -- but honestly, it's the beautiful photography that will really grab fans. The shots are absolutely gorgeous. Was it difficult to organize and coordinate all the photo shoots and write ups? How long did all that take to compile?
Hall: [Co-executive producer of "Days Of Our Lives" and Better Living's co-author] Greg Meng oversaw the entire thing and then Michael Maloney did all the writing. Every actor stepped up and spent a day or two having somebody in their home or on the beach for you [Hall motions to Hogestyn] or at Greg's for you [looks at Mansi].
Hogestyn: Yeah, it was actually two days for me. I'm kind of big on not having people come to my house because I've had strangers come there trying to kill me, so my wife doesn't like that. We went to a different place but it didn't really work. I said, "You know what, we're kind of missing it. Why don't I just do what I do and surf. Come out to the beach tomorrow and we'll just shoot it out there in Malibu."
Why do you think soap fans love these kinds of books?
Hogestyn: Beautiful pictures, like you said. Really, it's what gets you there, first of all. And then once you're in there, what do you take away from it? What you discover, from age 18 to 80, everybody's got a little different thing that works for themselves and someone can steal something and apply it and it works for them. Or at least they explore a little bit about themselves. Gold.
Hall: Do you watch the show?
A little bit, though I haven't watched it in a while.
Hogestyn: I'm outta here.
Hall: I think there is such a sense of longevity, of family, of comfort among anybody on any page in that book. And if you're a "Days" watcher and you pick it up, you're immediately seduced because the pictures are lovely. And there are settings in which you've never seen us. I mean, [Kate's] a ballerina, who knew that? I haven't seen [Drake] on a surfboard, and she didn't know I had a garden and it's your family being interesting and sharing with you. To find the information about the people we spend so many hours a day with and yet don't know? If we're that intimate, how must the audience feel getting to see how we live?
Deidre, you have your own lifestyle books. Did you feel some competition?
Hall: No, they're completely different. Mine are little books you put in your purse and take to the market. The kitchen book is healthy, nutritrious, simple recipes that happen to be vegetarian. And the beauty book is everything I learned on stage that crosses over into our lives. I want to find my light on stage; well, I want to find my light in a meeting too. It's, how do you shadow, how do you contour, what about permanent makeup, what about cosmetic surgery, how do this, how do you that? It's all that stuff actors don't want to talk about. It's a go-to book. The working title was "Does This Mascara Make My Ass Look Big?"
Mansi: Why didn't you keep it?
Hall: I chickened out. I chickened out!
Hall: Does this mascara make my ass look big?
Hogestyn: Do you put mascara in your back pocket, what?
Hall: It's girl quirkiness.
Hogestyn: I know, I know.
Hogestyn: See, this is what we have to listen to on-set all the time.
Mansi: I think we listen to our fair share of guy stories as well.
Hall: Enough fastballs for us.
"Days" has rebounded creatively and ratings-wise, and has been renewed until 2016. You won a Best Drama Emmy last year. Are you guys still pinching yourself?
Hall: No, I thought it was overdue. I thought it was going to be down to one show before we get this award again because the voting system is… we don't want to go there. But it was a joyous moment and way overdue and way well-deserved.
Congrats, Kate, on your pre-nom, by the way.
Soaps are up across the board. Do you feel like the worst has passed for the genre?
Hall: I think the business of soaps was badly handled for a while. Greg has cracked the code on how to keep a show on the air and we're doing it very well. Several of the shows were cancelled because they didn't have that kind of great leadership. We produce a wonderful, quality show on a very low budget and we do it by working our asses off. Everybody hits the ground running every morning, it's usually one take, sometimes without a rehearsal, cameramen are cued up and everyone is on their game. And it's still the show the audience longs to see when they put their television on. That's how you make a soap. Everybody's pulling in the same direction. And I think the audience for "Days" is so deeply loyal and deeply devoted to our show that they will always come to see us.
Hogestyn: They're emotionally attached to any number of 40 different characters, and that's why they like this book. It's why they look at it, pick out a character in there that maybe they have an emotional attachment to and then, by extension, they move on to another to another to another. But we used to shoot 80-hour weeks. That is no lie. I have a ledger that has 90-hour weeks and that was: wrap at two in the morning, and back at six. But there was the 3 a.m. that week and there was also the five o'clock. And we're back at six in the morning.
Hall: Sleep in your dressing room.
And why was it like that then and how come it's the way it is now?
Hogestyn: It was like you were on the bench, you were in the hole, you were on deck, you were up to bat and you had four run-throughs so when you got to the show, you were tight. You could tape your dress rehearsal and watch what you wanted to do and watch what the director wanted to do. Now it's like [snaps fingers] you get out there and you tape it once for the camera.
Mansi: Why was it that way?
Hall: They shot it that way because it had been done that way for a long time. As time wore on, we got different producers who went, "This just seems crazy." In the old days, we had a producer that wanted to look at the show scene by scene by scene. Which was really unnecessary.
Hogestyn: So you're watching the monitors and you finish your scene and they go to the next set-up and you watch that, watch that, watch that, and then come back to you. I remember that was the one scene where Patsy Pease [Kimberly] was going through a horrendous, nervous, crying, murderous breakdown. She'd finish the scene and then they'd go there, there, there, there, and come back to her and pick it right up. And had to do that the whole show. I felt so bad for her, to stay in that all day long can make you crazy.
Mansi: It's interesting. Naively, sometimes I think when I hear you guys talk about that, what a luxury it was to have had so much more time, but it's given me a great foundation and you have to be so prepared and have your choices. It almost feels mathematical sometimes, you have to map it out and then let it go. I love how fast we go, I love what we do.
Hogestyn: I thought about it a lot when we did the exorcism scenes, and they were really, really tough scenes with the priest, and the morning that we're on the set seriously blessing everybody because we're messing with the big book. When [Marlena] dies, and I try to save her, and it doesn't work and she dies. You're putting yourself out there as an actor, pretend or not pretend; you're invested in your emotions in that situation. I always wondered, what is it doing to you? Your brain can't fool what your body is involuntarily doing sometimes. Is it wreaking havoc on your body? Obviously your body is responding in a different way, even though it's make-believe, I don't care, you put your head there, you really dive into it. There are actors who are totally crazy to begin with, we all have a little bit of craziness in us but physically, the physiology behind it, I just wonder what kind of toll that takes.
Deidre, I don't know how you let go of that. What was your experience with that, the exorcism? Did you have trouble letting go of that darkness?
Hall: No. We prayed before our scenes and we were all very respectful of heading into some dark areas. And then it was just -- I got to be mean! I never got to be mean before.
Hogestyn: The synthesized voice, the eyes.
Mansi: It's what everyone mentions when I say I'm on "Days."
That changed the direction of the show, from that moment on…
Hogestyn: ["Days"' late former head writer] Jim Reilly, he really hit a nerve and then -- bam! Those numbers went through the ceiling.
Mansi: I have to find that, I really want to see it.
Hall: It's a whole arc. We knew there were terrible things going on in Salem and Christmas trees were bursting into flames, just awful things. And everybody's in church, it's midnight, and you don't know what's going on and I've gone to bed because I'm not well and as the choir sings at midnight -- boom. It cuts to me and I come up off the bed. Yeeaaah. And you go, oh my God, it's her! It was fabulous, it was so wonderfully written.
Hogestyn: It was the whole story. It was Maison Blanche, and it was the prison and I was being held there, and there was something in the past with John Black and he was this paranormal priest and the package came in from Europe and it was like Pandora's Box.
For the John and Marlena fans, they always seem to find their way back to each other. Why do you think that is and do you think that will happen again?
Hall: I think there's a lot to be said for characters that have been united for a long time. We had Tom and Alice, we had Bill and Susan, and we had John and Marlena -- and there's comfort in that. And I think it's about forgiveness and understanding and something deeper. It's a deep, deep, deep thing. He's home to me. And the audience gets that.
Hogestyn: They wrote a story where a decision had to be made. You make a decision as an actor, how do you play it? You take something out of the Bible and you say blood's thicker than water. Brady's blood, at all costs, I will sacrifice everything to save him, do whatever it takes, knowing that I will lose everything.
Hall: There's always a need for a device that breaks couples up. The best storyline is two people doing the right thing for the right reasons and it goes badly. You don't know who to pull for, you just know you hate it. Then you know that because it's a soap, at some point, it'll be OK.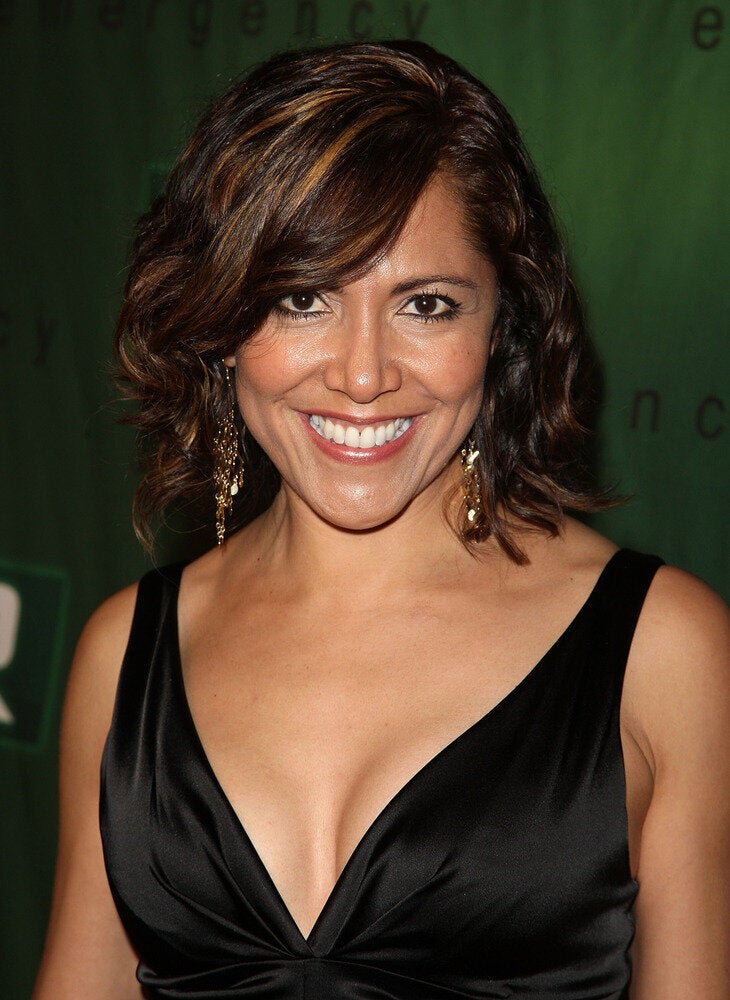 Actors Who Have Played Characters For 15+ Years