Natural Machines, a Spanish start-up, has launched a Kickstarter campaign to fund a 3D printer devoted entirely to food. The Foodini -- which is in theory capable of printing any dish -- has already demonstrated its ability to produce pizza, brownies, burgers and other dishes.
The printer has empty capsules that users will fill with raw or cooked ingredients according to the recipe. The machine then takes care of the rest, ensuring that each ingredient is properly dosed and added in exactly the right place. For now, the Foodini is capable of producing ravioli, pizza, quiches, cookies and brownies, among other dishes.
According to the company behind the project, the resulting dishes will conserve the flavour and freshness of the ingredients used. The company's website even suggests that the machine will encourage people to eat homemade meals by taking care of the "difficult and time-consuming parts of food preparation."
The company aims to raise $100,000 via Kickstarter so that it can launch production of the Foodini. Those who donate more than $2,000 will be at the top of the list to receive one of the first machines, which will be delivered from October 2014 if everything goes according to plan.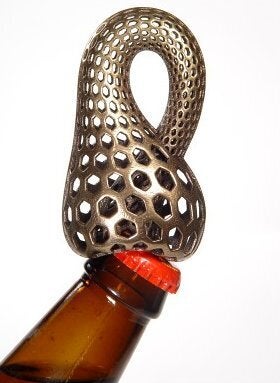 11 Things Built By 3D Printers