An Ontario mother whose daughter is in hospital with whooping cough has sent a strong message to parents who don't vaccinate their children.
Meghan Mcnutt-Anderson shared a photo of her five-week-old daughter Brielle in hospital on April 1 with the message, "THIS IS WHY YOU IMMUNIZE YOUR CHILDREN!"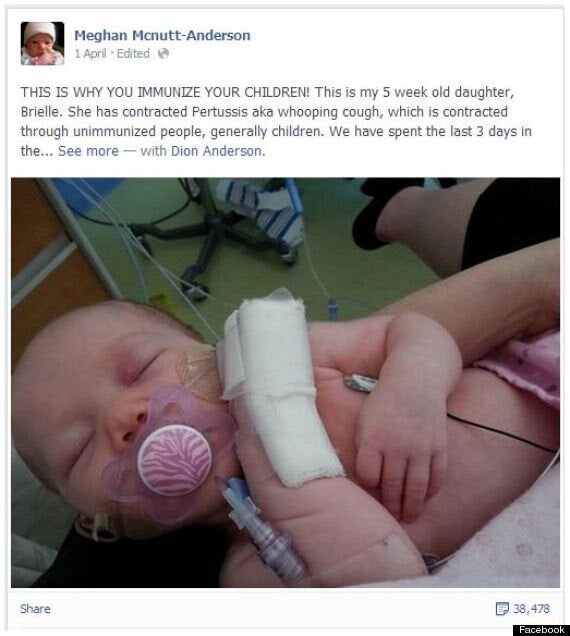 Brielle had been in the hospital for three days when her mother posted the photo. At the time, she would stop breathing and turn blue when she coughed, and required manual help to clear mucous out of her airways, according to the Facebook post.
The post had been shared more than 40,000 times by Tuesday afternoon. It no longer appears on Facebook.
"If you are considering not immunizing your children, think first about the people you put at risk who CAN'T get the immunization," Mcnutt-Anderson wrote.
Whooping cough, or pertussis, is a condition in which bacteria infect the top of the throat where it meets the nasal passages. The bacteria bother the throat and cause sufferers to cough, according to WebMD.
Symptoms include violent coughing fits that make it difficult to breathe, and a whooping noise when you try to take air into your system.
The disease is most severe for babies as it can lead to pneumonia. About half of babies under one year old who contract whooping cough end up in hospital, and a few can die from the condition, said the U. S. Centers for Disease Control (CDC).
Health officials advise pregnant women and anyone who will come into close proximity with a baby to get vaccinated against the disease.
Children are typically vaccinated against whooping cough when they're at least two months old, the CDC reports, and Brielle hasn't been immunized, according to her mother.
Mcnutt-Anderson's post came as a whooping cough outbreak was recorded in Alberta.
McNutt-Anderson's warning also came amid a cross-country outbreak of the measles, another disease that can be prevented through vaccination.
The outbreak can be blamed entirely on the fact that people are not being vaccinated, Dr. Gerald Evans, professor of medicine at Queens University, told the network.
"When people say some of this might be related to low vaccine rates among people, that's a huge understatement," he said.
In Calgary, Alberta health officials are asking more than 100 students at Western Canada High School to stay home for the next two weeks because they have not been vaccinated against the measles.
As for Brielle, Mcnutt-Anderson had posted an update on her Facebook post Tuesday, saying her daughter is now doing OK, that she is still having choking spells but fewer of them are causing her to turn blue.