For many people, Archie Andrews remains firmly embedded in childhood, the star of endless comics surrounding love triangles, homework excuses and days at the beach. But everyone has to grow up, and apparently in the world of Archie Comics, even their main character has to die.
As reported by CNN, in the upcoming July 16 issue, #36, of "Life With Archie," Andrews will die heroically to save a friend. The series followed Andrews as an adult, married to either Betty or Veronica in parallel storylines, and was targeted toward more mature readers. Recent storylines have included a shooting at the mall, as well as a controversial gay wedding, in order to be relevant to modern times.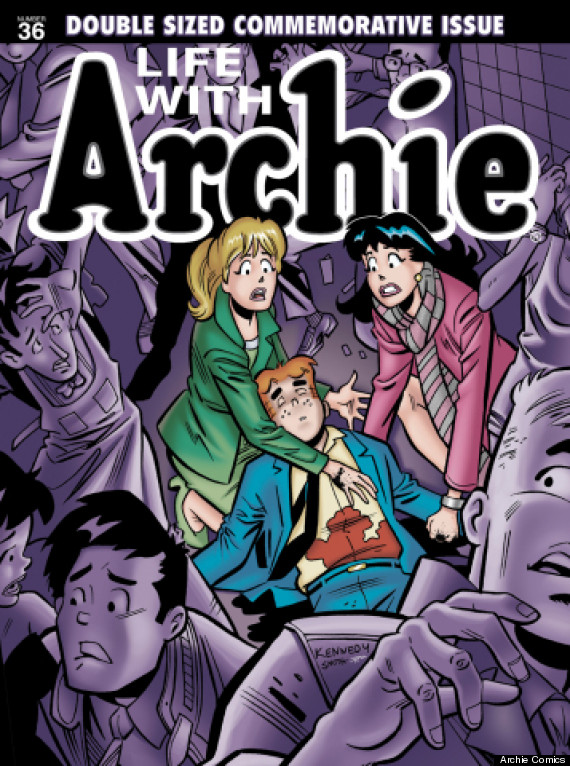 Archie Comics CEO Jon Goldwater told MTV, "We made the decision that in this universe, in the 'Life With Archie' universe, the way for it end, and end in a manner that's consistent with 75 years of what Archie is all about, and what he stands for. The way to do that was for Archie to die."
The series will continue with one further issue published a month afterwards, showing the rest of the Riverdale gang mourning their friend and continuing on with their lives a year later. As writer Paul Kupperberg explained to Comic Book Resources, "After all these years, we thought readers would want and need closure, kind of like a memorial service where anybody can stand up and talk about the dearly departed."
As Goldwater notes, the comic series that focuses on high-school age Archie will continue as it has since the 1940s. The company also produces "Afterlife with Archie," a separate, zombie-oriented take on Riverdale, which is releasing its fifth issue next week.
CORRECTION: In a previous version of this story, it incorrectly stated that "Life With Archie" would continue. Issue #37, following Archie's death, will be the last one in the series. The error has been corrected.
Also on HuffPost
Most Controversial Comics