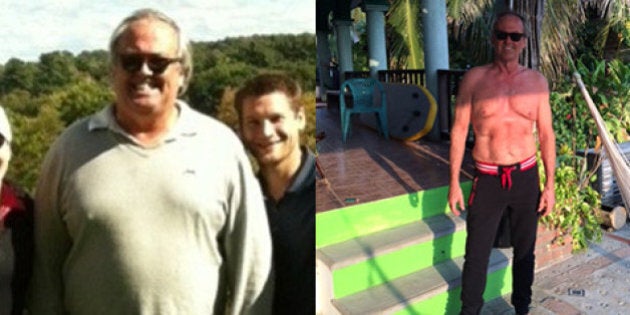 By The Numbers: 300 at my heaviest, and currently 215, total weight loss of 85 pounds
The Weight Gain: I always gained weight very easily as a child. My weight was OK during my late teens and 20s, because I was very active and was living in Miami at the time.
I started to gain weight when I came back to Hudson to help my dad run the Chateau Du Lac bar. I was working seven days a week and was always surrounded by liquor and parties being in the hospitality industry.
In 2010 I was asked to appear on the "Canadian Pickers" television show and the week before my episode was scheduled to air, they released a two-minute teaser of the episode on YouTube. When I watched it I was horrified by how big I looked. I even refused to watch the entire show for a full year. But it still didn't make me do anything about it. I justified it by telling myself that I was just meant to be big and that I would just have to deal with it. I ended up appearing in the next three seasons of the show and just continued to get bigger and sicker.
The Final Straw: The final straw came on Jan. 1, 2013. I was having lunch with a nurse and I told her I was worried about having diabetes. She was a childhood diabetic herself and always had her glucose meter on her. She suggested we take my levels later on and I reluctantly agreed.
Around three or four hours after lunch she checked my blood and her face went white. She showed me the result and it said 26.8. I asked her what that meant and she explained that between four and six is normal and that they are instructed to call for an ambulance when someone hits 27.
Story Continues Below. Check out more of our inspiring weight loss stories: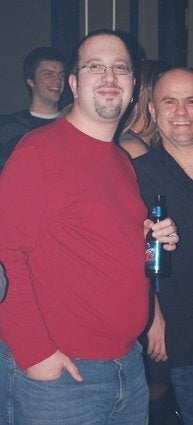 Lost It: Weight Loss Success Stories
The Plan Of Attack: The first thing I did was a sugar audit on my daily consumption, and discovered that I was taking in about 200 grams a day (36 grams is considered to be the maximum daily amount for an adult male).
The next thing I did was my own personal medical experiment in order to reduce the emotional issues associated with this sort of undertaking. I knew that if I focused on the health aspect, the weight loss would take care of itself. I did a lot of reading and research on obesity, diabetes, metabolic syndrome, and the biochemistry make-up of our bodies.
The Food Element: I was eating a lot of starches like pasta, baguettes, potatoes, rice, and refined flours — all the foods that convert to sugar once they hit your intestines.
At first I was focused on calories but after reading Good Calories, Bad Calories by Gary Taubes, I started experimenting by eating healthy fats like olive oil, avocado, and nuts.
The Exercise Factor: I didn't really have any fitness or weight loss goals when I started, I was more concerned about my metabolic health and how I was going to get off medications.
It wasn't until the six-month mark that I started on my body weight exercises and I was very weak from the rapid weight loss. After nine months it was getting a little cold to exercise outside so I hired a personal trainer for three high intensity 30-minute sessions a week, and I continued to walk 30 minutes every day.
The Current Day-To-Day: Looking back, I am the most proud that I had the mental toughness to get through the difficult first few months. The only regret I have is that I waited so long to do this, and I would like to say to anybody who finds themselves in a similar situation: never give up the fight. Eat whole foods, do a minimum of exercise, and stay away from refined sugar and all caloric sweeteners.
Have a success story of your own? Send it to us at CanadaLiving@huffingtonpost.com and you could be featured on the site!