Think your winter was bad? Think again.
Winnipeg is coming off its coldest winter since the 19th century. The average temperature from December to March was -18.3 degrees Celsius, just 0.1 degrees warmer than it was in 1898.
So the next time you complain about winter, take a look at some cold, hard facts and remember that Winnipeggers have it worse than the rest of us.
Winnipeg's winter was the coldest in Canada:
The Red River snakes through my snow covered hometown, Winnipeg: #wingletWednesday@aircanadapic.twitter.com/c30mJwFx2l

— Deborah Clague (@debclague) April 2, 2014
Not making this up: a solitary goose in the fog and snow at #umanitoba on the first day of spring! #winnipegpic.twitter.com/yq1ikMTUes

— Chris Rutkowski (@ufologyresearch) March 20, 2014
Sidewalk in #winnipeg We know our snow. #cbcmb@CBCManitobapic.twitter.com/19kPYBBW97

— Sara Calnek (@sarac78) February 27, 2014
That's in the same year as a polar vortex in Ontario: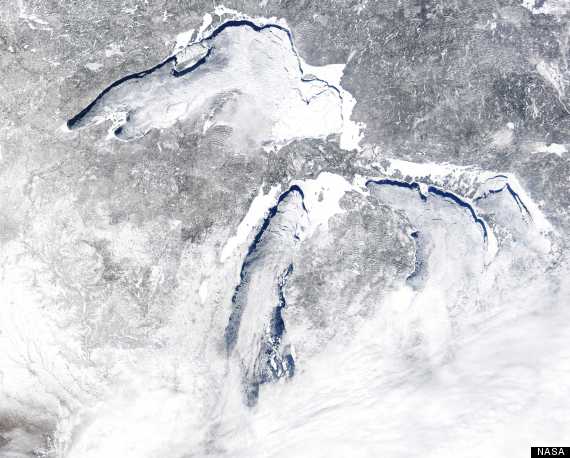 And a record-matching blizzard on the East Coast.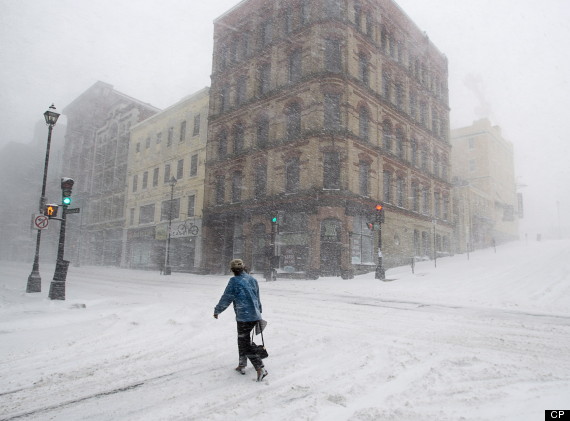 The snow can hit Winnipeg in a flash...
...And pile so high that even the cars form snow angels:
Credit: Dan Boey
And that's if you can FIND your car: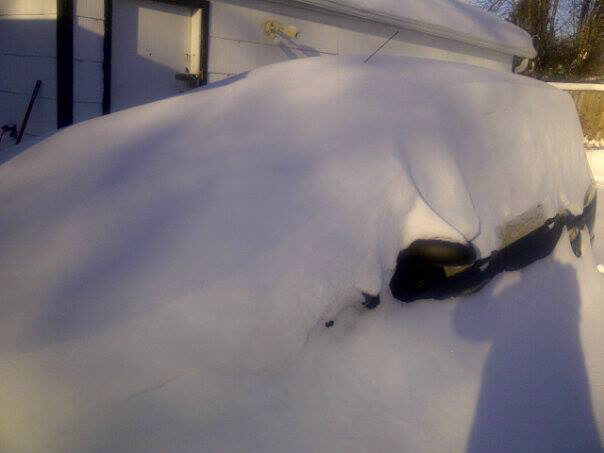 Credit: Lea Nicole from Winnipeg
Windrows keep you from backing out of your garage...
Check out this windrow in compared to the height of videographer @jeffywpg who is 6'2" #cbcmb unhappy homeowners! pic.twitter.com/IWcudFIXDx

— Jill Coubrough (@coubroughCBC) March 14, 2014
And shovelling your walkway is a real chore:
It's not the Rockies...
Yet rivers and lakes tend to form in the streets:
It never seems to end (this was on April 7):
April 7 snow shower in downtown #Winnipegpic.twitter.com/nAXqTa1LDB

— Peter Chura (@PeteronGlobal) April 7, 2014
And when it lifts, this is what it leaves behind:
Potholes, frozen water pipes: after a brutal winter, #Winnipeg is having an infrastructure crisis. @cbcworldatsixpic.twitter.com/MOwnQ3nrG1

— Karen Pauls (@karenpaulscbc) March 11, 2014
Bump! RT @BirchwoodAuto: Attention folks: #pothole season is here - http://t.co/tLpyLN6dVw#winnipegpic.twitter.com/FUQy1OwQRA

— Gourmet Coffee (@wpgcoffeegurus) March 11, 2014
Pothole hunting earlier today. The @FilipinoJournal is used for scale since I didn't have a banana. #Winnipegpic.twitter.com/mAJ2txXkLb

— Ron Cantiveros (@RonCantiveros) March 16, 2014
But we have to hand it to Winnipeggers. They know how to make the best of a bad situation:
Beautiful day in #winnipeg. Finally a break in the weather. Cold beers fire and snow clean up #cheers

#enjoypic.twitter.com/vhUNr6oAJn

— winnipeg local (@WPGLOCAL) February 17, 2014
And how to find the beauty amid their misery:
Strong winds create beautiful patterns in the #snow#winnipeg#MB#photography#cold#winterpic.twitter.com/w2urnwkLyI

— Diane Hammerling (@bbphoto_ca) January 4, 2014
So cheer up, Winnipeg. Sunnier days are on their way, and you've earned them better than the rest of us.
Another beautiful #sunrise here in #Winnipeg. Have a wonderful day everyone! pic.twitter.com/LLHzcvSYCF

— Michelle H (@michelle373737) January 15, 2014
Like this article? Follow our Facebook page

Or follow us on TwitterFollow @HuffPostCanada
Also on HuffPost