The public life of an embattled Canadian senator has gotten even more uncomfortably public.
A heap of clothing and miscellany scattered haphazardly in the snow was photographed by The Canadian Press outside Patrick Brazeau's home near Ottawa after what police describe as a domestic disturbance.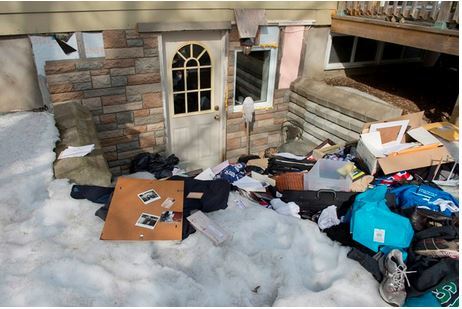 In the early morning hours on Thursday, police responded to a a Gatineau home and landed in the middle of a heated dispute between a man and a woman on the front porch.
"The female was complaining about being assaulted by the man, and we're talking about domestic violence in that case," Const. Pierre Lanthier told reporters Thursday.
Inside the house, a second man told police he had been assaulted and threatened. A small amount of white powder, they added, was also found on the scene.
And then, of course, was the mess of personal effects.
Here's how Stephen Maher of Postmedia News described the scene:
'His worldly possessions were sprawled in an untidy pile with no sign that friends or family members were going to collect them.

There was a Canadiens toque, a harmonica, a violin, an abstract painting, a Michael Bolton CD, a bag of what looked to be marijuana, his Indian status card, family photos, a big legal envelope from the Senate, a blue boxing glove, a bunch of tangled clothes, and, poignantly, a card with birthday greetings in a child's handwriting.'
Brazeau is now facing charges including assault, uttering death threats, cocaine possession and breach of bail.
On Friday, he was released from custody on $5,000 bail -- on condition that he undergo treatment at a rehabilitation facility and be at home between the hours of 11 pm and 7 am.
Not a good night for the suspended senator.
But only the latest in a string of incidents that have marked Brazeau's political career since he was called to the Senate in 2008.
The first that springs to the public mind was back in March 2012, when Brazeau took a beating in the boxing ring at the hands of Justin Trudeau in a charity match.
Just as the occasion seemed to mark Trudeau's political ascendancy – he would soon become federal leader of the Liberal Party of Canada and a legitimate contender for prime minister – so too did it appear to signal Brazeau's public swan dive.
"He didn't get me down," Brazeau told reporters amid a chorus of post-fight boos.
Months later, in November, the soon-to-be very sticky business of senate expenses reared its head – a scandal that would claim the careers of several prominent political figures. A committee began delving into how Brazeau could claim a housing allowance for a home in Maniwaki, Que., despite living full-time in another home much closer to Ottawa.
Less than a year later, an RCMP investigator would release a damning report:
"The investigation has shown that Brazeau does not live in Maniwaki, nor does he own a home there," Corporal Greg Horton wrote in an affidavit. "Brazeau's father resides in Maniwaki, but the Senator, since being appointed to the Senate, has not."
Along the way, Brazeau's social media overtures ranged from buffoonish to misogynistic.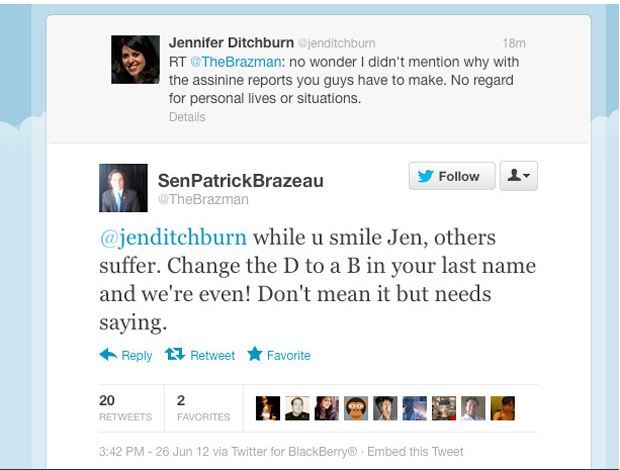 In February 2013, Brazeau was charged with sexual assault – a development that got him turfed from the Conservative caucus.
He wouldn't sit long as an independent senator.
In November 2013, Brazeau – along with fellow scandal-ridden senators Mike Duffy and Pamela Wallin – was suspended without pay.
On the eve of his suspension, Brazeau defiantly told the Senate he is "not a thief, a scammer, a drunken Indian, a drug addict, a failed experiment or a human tragedy."
And that was the last the Senate had seen of him.
Brazeau's strange and surprising foray into the job market garnered nearly as much intrigue as his adventures in the Senate.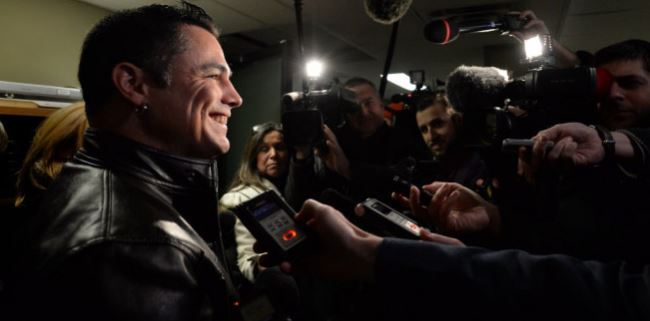 Suspended senator Patrick Brazeau applies for membership to the parliamentary press gallery at the National Press Building in Ottawa on Dec. 2, 2013.
A gig as correspondent for Frank Magazine ended almost before it began and with spectacular acrimony on all sides.
"Operation Give a Dog a Bone has been terminated," Frank editor Andrew Douglas would later ruefully reflect.
For his part, Brazeau wasted little time in finding another bone.
In February, he landed a job as manager of an Ottawa strip club.
And then came this week's domestic disturbance and ensuing charges -- spelling another night in jail for Canada's youngest senator.
"We can't just let a person go out, free on bail, knowing he did the same criminal infractions that he did before," Crown prosecutor Sylvain Petitclerc told reporters.
"We cannot just let him go free as a bird."
Another bad night indeed.
Also on HuffPost
Scene After Brazeau's April 2014 Arrest