The latest allegations related to the gas plant scandal in Ontario may have pushed Tim Hudak's Progressive Conservatives into first place. Or perhaps they dropped to third.
Welcome to the world of Ontario provincial polling.
A survey conducted by EKOS Research for iPolitics between March 27 and April 3 and interviewing 1,234 Ontarians found the Liberals narrowly leading a three-way race with 32 per cent support, against 29 per cent for the New Democrats and 27 per cent for the Tories.
Another poll, conducted by Forum Research on April 7, interviewed 928 Ontarians and was reported by the Toronto Star. It had very different results, putting the PCs at 38 per cent against 31 per cent for the Liberals and 23 per cent for the NDP.
The assessment of where the Liberals stand is similar in both polls, but the support levels of the PCs and New Democrats vary significantly. And these are the two parties that need to decide whether to defeat the minority Liberals and send Ontarians into an election campaign.
Certainly, the polls were taken at different times and the unfolding story of the gas plant scandal may have had an important effect on voting intentions. Compared to Forum's prior poll, conducted March 24 before the latest allegations emerged, the Tories have picked up six points while the Liberals have dropped four.
But in a province where less than half of eligible voters actually cast a ballot in the 2011 provincial election, perhaps it is not surprising that polling results would be so divergent. Provincial politics in Ontario have rarely attracted much interest — even the 48 per cent turnout of the 2011 election broke the previous record low in 2007, when it was just 52 per cent.
Turnout in federal elections, by contrast, has been markedly and consistently higher in recent years.
Nevertheless, the polls in Ontario have actually performed remarkably well at election time. When Ontarians have to make a decision, that's when they pay attention. These pre-campaign polls may be prodding a disinterested electorate, making it all the more possible for two pollsters to come out of the field at about the same time with very different results.
This has actually been a recurring theme with Ontario polling lately. Though Hudak's Tories seem hell-bent on defeating Kathleen Wynne's government no matter where they stand in the polls, Andrea Horwath has a more delicate decision to make. All polls agree that she stands to make gains in any new campaign, but it could potentially come at the price of a PC majority, in which the NDP would lose the balance of power it is currently enjoying.
The most recent campaigns in Quebec and British Columbia have demonstrated just how important those four or five weeks before the vote can be. In B.C., Christy Clark's Liberals won on the back of a strong campaign. In Quebec, Pauline Marois's Parti Québécois was defeated largely by its own doing.
All three provincial leaders in Ontario have reason to believe they can turn the numbers to their benefit in a new campaign. Wynne has the incumbency advantage and her chief rival remains deeply unpopular at a personal level. Hudak has in his favour the public's growing frustration with a Liberal government that has now been in power for over a decade. And Horwath boasts the best personal approval ratings that she could potentially turn into new votes if Ontarians move away from the two other parties.
It means the next campaign in Ontario, whenever it is called, should be an interesting one. Hopefully, Ontarians will tune in.
Éric Grenier taps The Pulse of federal and regional politics for Huffington Post Canada readers every week. Grenier is the author of ThreeHundredEight.com, covering Canadian politics, polls and electoral projections.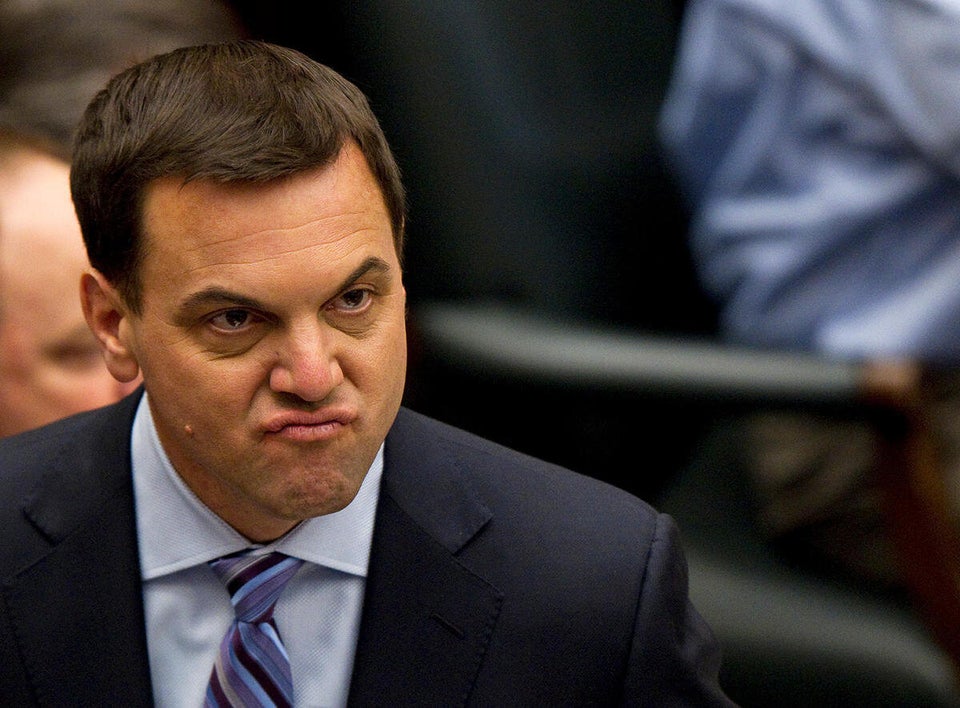 The Many Faces of Tim Hudak