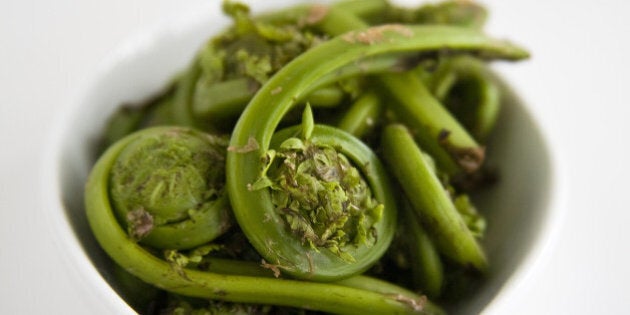 TORONTO - The harsh winter has delayed this year's harvest of fiddleheads, usually seen as a harbinger of spring.
"We still have snow in Quebec," said Nick Secord of NorCliff Farms Inc. (the company's main packing plant is located in Asbestos, Que.).
"The season will probably start, give or take a couple of days, on either side of the fifth of May. It's going to be late. The rivers are all rising everywhere so a lot of the beds are flooded."
It's a departure from many years when Secord says they have picked the plant — so named because the curled spiral shape looks like the head of a fiddle — by the third week in April.
Secord originally hails from New Brunswick (the Maritimes are prime fiddlehead territory) but wasn't very familiar with the vegetable when he began harvesting it back in the early 1970s.
He was already running various businesses, but was urged to sell fiddleheads by a few locals who picked them by the river at Tide Head just outside of Campbellton.
"The very first year I had these guys with big boots and baskets and they were standing in the river and they were washing fiddleheads and dumping them onto a platform and then packing them into bags and we were sending them off to stores and that was the humble beginnings," he said.
NorCliff Farms, headquartered in Wainfleet, Ont., now distributes fiddleheads picked from about 400 hectares in the Ottawa Valley, New Brunswick, Nova Scotia, Quebec's Gaspe coast and into Maine. Some 300,000 ferns were brought in from the East Coast and planted on 16 hectares at the Wainfleet farm, just west of Port Colborne, and have been producing for about four years, he said.
Once the ferns start coming up in the spring, "you can't pick fiddleheads fast enough," Secord says, adding he's seen plants spring up almost 15 centimetres in a day.
Once picked, the fiddleheads are trucked immediately to the three-storey Quebec factory. In a good season, NorCliff (established in 1973) has between 60 and 70 people working at the Asbestos plant and 400 to 500 people in the fields.
Secord extols the health benefits of fiddleheads, pointing to research that suggests fiddleheads have twice the antioxidants as blueberries and are high in omega-3 and omega-6 fatty acids, all of which have anti-inflammatory properties.
And then there's the taste.
"If you like asparagus and you like broccoli you'll like fiddleheads," Secord says. "If you steam them they are a little bit bitter like rapini or if you boil them, which I prefer, then they're more like broccoli and asparagus, mild taste.
"Garlic, olive oil, salt and pepper — mmmm. I could eat those three times a day. And of course I like to throw some cheese on," such as organic goat or cheddar grated over top.
Fiddleheads are not meant to be eaten raw, and Health Canada urges consumers to clean them carefully even if they've been pre-washed.
Their high iron content causes the ends to oxidize very quickly once they're cut off the plant.
"It doesn't detract from the quality or taste," said Secord. "Just snip them before you cook them."
Fiddleheads can be stored for up to three weeks in cold water in the refrigerator. Change the water occasionally.
A rising demand means that this year for the first time in three decades, Secord's company won't be marketing frozen fiddleheads.
Consumers can freeze their own to add to soups, quiches, pesto, spreads and dips next winter. Here are tips on how to do it from NorCliff Farms:
Clean fresh fiddleheads and trim off ends. Place fiddleheads in a colander. Submerge colander in a bowl of water and remove any pieces of dirt by hand. (This may need to be done more than once.) Drain the water from the fiddleheads.
Bring a pot of water to a full boil and blanch fresh fiddleheads for two minutes, making sure they are fully immersed in the boiling water. (Any part of the fiddlehead that is not immersed will turn black.) Drain fiddleheads and immerse in very cold water to stop the cooking process. Drain.
Place desired amount into a freezer bag. Add water to cover the fiddleheads to avoid freezer burn and freeze.