In the video, the avid golfer shows off her fitness skills, including stretches, squats and lunges. And it wouldn't be a proper Paulina Gretzky shoot if she weren't wearing scandalously small garments; the 25-year-old wore tight white yoga pants and a matching sports bra for one photo session, a yellow short and black bra combo for another and grey pants paired with a plunging purple bra during a difficult looking squat pose.
Paulina even admitted in the interview that she found the photo session difficult.
"Those were hard!," she said about the exercises she had to do. "And I was pretty sore the next morning."
Story continues below slideshow: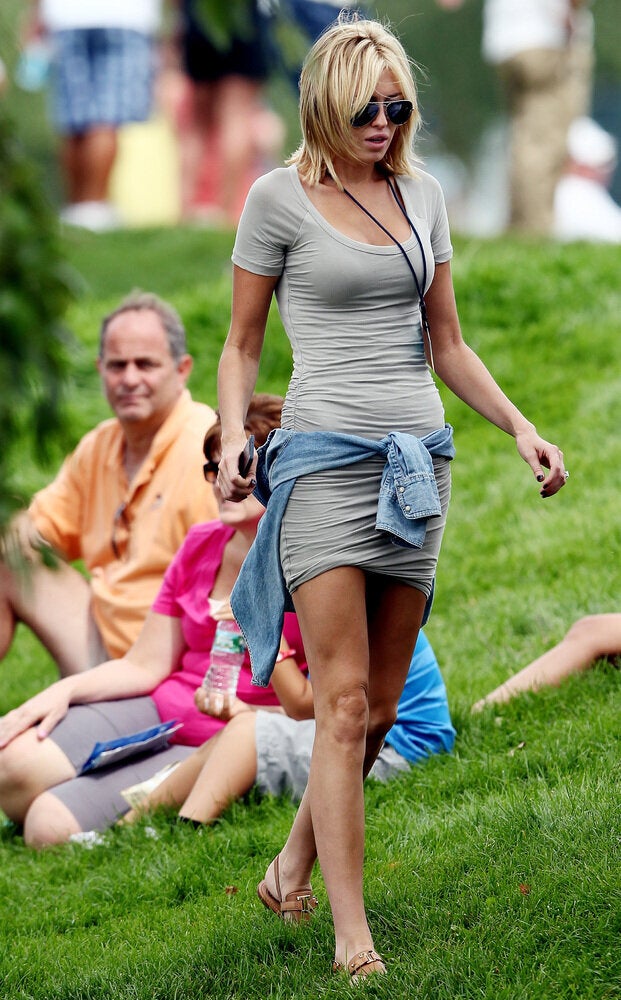 As for how the svelte blond keeps her Instagram-ready figure? Simple: it's all about diet and exercise.
"First of all, I was blessed with incredible genes," she said. "Look at my parents! But it's really 70-percent diet and 30-percent working out. It's all about fitting in some exercise wherever you are...It's as simple as everything in moderation. I'll eat pizza and cheeseburgers, but I won't do it every day."
"I used to think I needed to wear a polo shirt to be in the clubhouse," Paulina said on what kind of fashions do and don't work on golf courses, "but now I've realized it's not like that, and I can wear my workout clothes and just dress so I'm comfortable."
These days, the controversial NHL heiress is keeping busy following her fiancé, pro golfer Dustin Johnson, around the world as he competes in tournaments.
"The most important thing for me right now is my relationship with Dustin," she said. "It's what makes me happiest, and I don't think there's anything wrong with that. It's important for people to realize it's OK to be happy in love. If you don't want to give up something, that's OK. But if you're in love and have to give up something, that's OK, too."
As for their upcoming wedding, Paulina said the happy couple still haven't set a date yet, telling the magazine, "with his schedule and all it's been hard to set a date. It'll be our special day, and we just want it to be right and to fit."