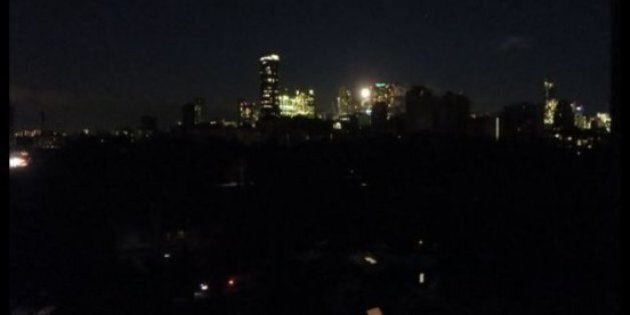 On the same day fresh snowfall greeted Torontonians, a massive power outage forced thousands of hydro customers in the city's west end into darkness Tuesday evening.
UPDATE: Toronto Hydro reports all power has been restored to customers. TTC services are also back to normal. According to Hydro One, an estimated 12,000 customers were affected by the power interruption, reported CP24.
Hydro workers say they're focusing on restoring power in boundary areas including Yonge, Mississauga, Lawrence, and Dupont. Officials also identified a transmission issue as the cause.
In the city's north end, moviegoers at Yorkdale Mall were forced out of theatres after power was cut off in the middle of some shows.
TTC confirmed signal problems suspended subway service on the Bloor-Danforth line between Jane and St. George stations.
Earlier in the day, Toronto Hydro warned customers to be prepared for possible power outages.
According to reaction on Twitter, the outage seems to have affected several parts of the city's west side including neighbourhoods such as the Annex, Parkdale, Roncesvalles, and the Junction.
Areas as far north as Bathurst and Eglinton were also reportedly affected.
Last year, an ice storm brought down power lines throughout the city, leaving some areas of Toronto without power for weeks.
Residents can report outages to Toronto Hydro at (416) 524-8000.