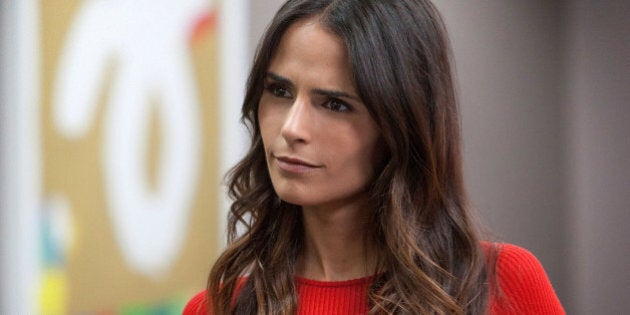 "I doubt I'll ever figure out how to deal with it," she sighs. During her varied career, the stunning actress has lost three beloved co-stars. When she first broke out on daytime soap "As The World Turns," the now 33-year-old Panama City native mourned the suicide of her Emmy-winning onscreen father Benjamin Hendrickson. Two years ago, her new "Dallas" co-star Larry Hagman passed away; and last year, her young co-star and friend, "Fast & Furious" hunk Paul Walker, perished in a tragic car accident that rocked Hollywood.
HuffPost Canada TV: How cool is it that you're back in the suds world? You broke out in the soap world as Nikki Munson on "As The World Turns." How did you feel when it was cancelled?
Jordana Brewster: Soaps were great. It's really sad they're all disappearing. They were such a great training ground for actors. I was on "As The World Turns" for three years; I feel like the show taught me so much. It was a great springboard. So, yeah, it's a huge loss. One of the biggest parts of "As The World Turns" was working with and being friends with Benjamin Hendrickson [who played Nikki's dad, Hal]. He taught me so much and he was such a joy to work with. His loss was really profound. [Ed. Note: Hendrickson died from a self-inflicted gunshot wound in 2006.]
You guys had a great chemistry. And he had just won the Emmy. You've also lost other co-stars: Paul Walker and Larry Hagman. Have you developed coping mechanisms at this point?
[Sighs] No. It never gets easy. But you just have to keep moving forward and live your life as fully as you can in their honour.
Are you going to do another "Fast & Furious"?
I actually start again on the seventh film very soon. That's all I can say. It's all very secretive. I'm really looking forward to it but it will be very different without Paul. [Lowers voice] He had this special ability to make you feel like the most special person in the world. He was an amazing father. I consider myself lucky to have been his friend and co-worker for almost two decades. With that in mind, we vow to make our next film the best it can be, in his honour. And the critics really liked our last sequel. They do such a great job at reinventing the franchise each time. [Producer and star] Vin Diesel works very hard at knowing and delivering what the fans want. He never takes it for granted and that's a very beautiful thing. The next movie will definitely hold special meaning for all of us: the fans included.
Let's cheer up this interview: Congrats on your success on "Dallas." Were you surprised the reboot is a big hit?
The TV landscape is so different now. It's so much more competitive than it used to be. They have a lot to contend with, with shows like "True Detective" and "Homeland." So, any time you sign on for anything, you're hoping and praying it works. That said, you don't sign on to something unless you think it'll work out. I really believe in [showrunner] Cynthia [Cidre] and her writing. The pilot script was so phenomenal. I also really liked the template of the "Dallas" show. Obviously, I'm a huge fan of family drama and soaps, so I definitely felt like it had a shot. I'm really happy that it's been embraced the way it has.
I smoked a cigarette after watching the "Dallas" Season 2 first trailer. It was hot!
What do you think of your character? Elena has evolved from good girl to a woman scorned.
I'm so happy. It's been so much more fun for me this season. In the past, while there were some fun times with Elena, it's difficult because she's a lot like Bobby Ewing. Patrick Duffy and I discussed this the other day when he directed recently: Elena's very good -- and good can get a little bit old sometimes. When John Ross screwed her over or when she was torn between Christopher and John Ross, she was kind of a [pushover] ... let's just say, it's a lot more fun to be bad. I'm really glad she's gotten to play with [new love interest] Nicholas and has her hand firmly in revenge. I think I'm definitely in a much stronger place as an actress now, given Elena's multi-dimensions. I'm really enjoying myself.
Do you find that your beauty typecasts you as the heroine?
Um, no. If I get typecast ... it's because of Mia in the "Fast & Furious." Mia is the "good girl" and her feet are firmly planted on the ground. I've made a concerted effort to work against that typecasting because you'll get easily bored. Over the summer, I did a film, "North Of Hell," with Katherine Heigl and Patrick Wilson, and I play this little harlot who shakes up everyone's world! And that can be really fun, scary and liberating. I think it's your job as an actor not to play the same thing over and over again, because otherwise people will see you only one way.
And that's the great thing about "Dallas": Characters can evolve and grow.
Exactly. I'm a huge fan of TV, especially for women. It's such a rich playground. It's so limiting to just do film. Actually, I love being on TV. And TV shows look like films these days.
Did you watch "Dallas" as a kid?
No, I was too young. But I did catch up on past seasons ... not all, but I did watch three or four. We all did. It was fun to able to do that and see Sue Ellen Ewing drinking and juxtaposed with how Linda Gray is in real life. It was trippy! I loved how dark it was, especially with everything JR was doing. You couldn't get away with some of that stuff today.
What is it like working with the likes of iconic vets Larry Hagman, Duffy and Gray?
Patrick has been so wonderful and gracious. I hope he gets to direct more. Both he and Linda are great examples of how to grow and behave in this business, and how to treat people. They're both so wonderful. Linda and Patrick have no ego. We're very lucky on this show. They all treat everyone with respect. And Larry? I was blessed for the time I had to be around him. He had so much fun. He was great. He never took anything for granted. And it was great that he was alive to do a season and a half of "Dallas," because his acting was never better than it was during his final days. He should've been nominated for an Emmy Award.
Do you like working with hunks Jesse Metcalfe and Josh Henderson?
They're pretty ugly to look at, huh? It's not an easy job kissing those two! And now with the addition of Juan Pablo di Pace ... I'm pretty lucky.
You're officially the most hated woman in America! You've been married to your husband, film producer Andrew Form, for 7 years... what does he think of your love scenes?
He's used to it now. Listen, we met on the set of "Texas Chainsaw Massacre," which he produced, so he knows the drill. With film, it's more difficult because it's more of a novelty in the sense that you're just meeting someone for the first time, and you're jumping into bed with them right after. With TV, your co-stars become your family so it's more comfortable for everyone involved. There's no sexual tension between me, Jesse and Josh because they're like my brothers. My husband has nothing to worry about.
What's the set atmosphere like?
We're always singing on set. We have fun and goof off between takes, because the subject matter is always so serious.
"Fast & Furious 7" is being released in 2015, and the second half of "Dallas" Season 3 begins in mid-August 2014.