The bane of many parents' existence is giant stuffed animals, thanks to all the room they take up, but Prince William and Kate Middleton don't have to worry too much about accommodating the massive gifts Prince George has been receiving throughout their royal tour.
On the family's first day in Australia, Prince George received a giant stuffed animal wombat bigger than himself from Australia's Governor-General Sir Peter Cosgrove, at whose residence they are staying in Sydney, reports The Telegraph.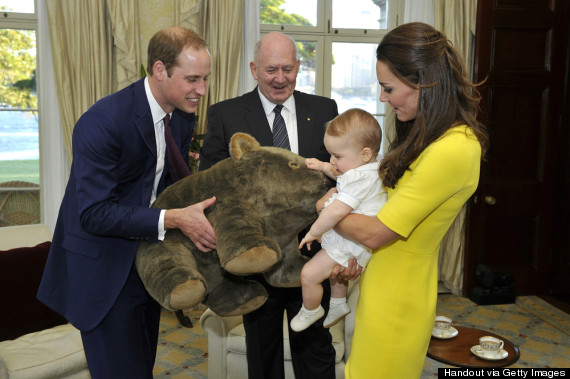 The young prince has received many official presents through the family's journey Down Under, including an Avanti mini bike, a rubber boat and a giant blue teddy bear in honour of his Kiwi playdate. It's been hypothesized a pair of miniature Ugg boots are in his future as well.
The wombat is native to Australia, where the royal family will be spending the next 10 days, and has some further family associations as well — Princess Diana used to call William "wombat," which the prince has attributed to his own royal visit to the country in 1983, reports Hello! magazine.
At a reception for the family, William remembered his mother's love for the country, which she visited several times during her marriage to Prince Charles.
"My mother's deep affection for Australia — which you were so kind to reciprocate — needs no reminder," William told a crowd at the Sydney Opera House, according to the Hamilton Spectator.
Also on HuffPost
Prince George Down Under!