UPDATE - April 23, 2014: Chloe the dognapped bulldog was found roaming a residential neighbourhood in Abbotsford, Vancouver police said. Their investigation revealed that the dognapping "possibly stems from a dispute between an employee at the tattoo shop and the dog's original owner."
Vancouver police are investigating an alleged dognapping, where a woman walked out of a downtown tattoo studio with a French bulldog, while its owner was just a few feet away.
Shaughnessy Keely, who manages The FALL Tattooing & Artists Gallery on Seymour Street, said it happened on Thursday evening when the woman came into the business and started looking around. Keely's 10-month-old dog, Chloe, is often at work with her, according to The Province.
The suspect asked to pet and hold the bulldog, which is a common request from many customers, said a statement from Keely.
Shortly after, Keely needed to help a tattoo client at the cash register. As she was distracted, the woman — still holding Chloe — inched toward the door, then "made a run for it," Keely alleges.
The suspect ran into a black car with no licence plates that was waiting out front. It then sped away, said a post on the tattoo shop's Facebook page.
Keely and her co-workers tried unsuccessfully to chase after the car.
The whole incident took 90 seconds — and was caught on the store's surveillance camera. Keely has shared the video on Instagram and YouTube in hopes someone will help identify the woman and bring Chloe home.
The French bulldog weighs about 19 pounds and was wearing a pink hoodie, pink harness and striped leash when she was taken.
Vancouver police are looking into the incident, reported Global News.
Last month, surveillance video at a different Vancouver tattoo shop captured a violent assault by a regular customer on the owner. A man has been charged in that incident.
Here's the poster with more details of the suspect from The FALL's Facebook page: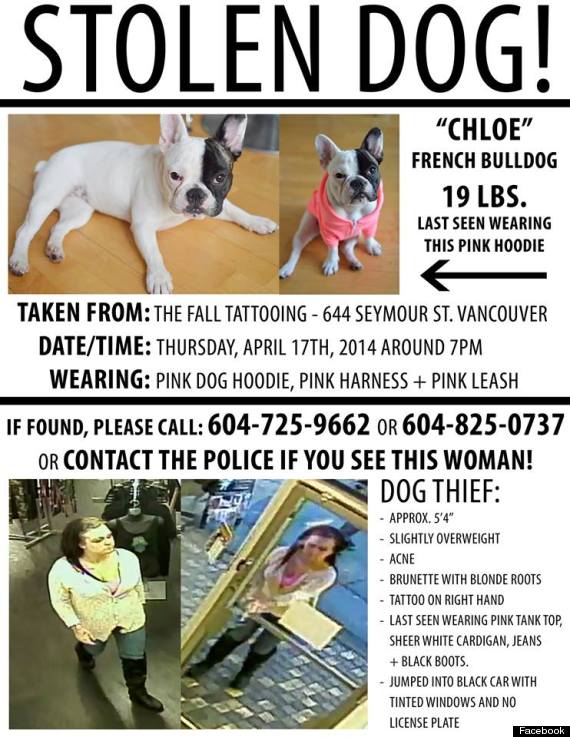 Like this article? Follow our Facebook page

Or follow us on Twitter
Also on HuffPost