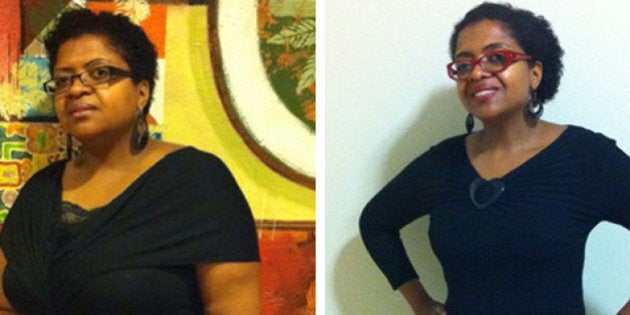 By The Numbers: 194 at my heaviest, and currently 142, total weight loss of 52 pounds
The Weight Gain: As a child, I didn't look overweight until I was around eight. I recall family and friends commenting on my size and how I looked "big" and older than my age.
After I had my daughter 18 years ago, my weight became a problem. I just didn't lose much weight after having her. After I had my son (13 years ago), I knew I had a weight problem. I was always tired, and I know I was always eating because I needed the energy boost. I ate when I was hungry, but also when I was tired. Basically I ate constantly.
The Final Straw: In October 2006 my husband died suddenly. I lost weight immediately afterwards, but ended up putting on more weight as I dealt with the immense stress that followed. I worked full-time and suddenly had to find daycare, and help console my children. I was also dealing with noisy neighbours. This impacted my sleep and just added to my stress.
By 2012 I went to see a family doctor for the first time, because I was in all sorts of pain. I couldn't go to the gym. I would walk and suddenly my knees would go out on me.
I asked my church to pray for me and went to a healing service in August of 2012, and the next day I went and openly spoke to my doctor. Instead of just saying "OK" when she told me to lose weight, I opened up to her and told her that I wanted to.
Story Continues Below. Check out more of our inspiring weight loss stories: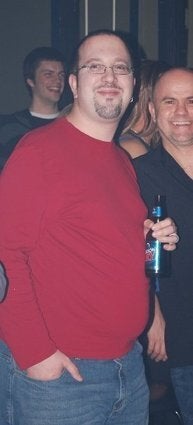 Lost It: Weight Loss Success Stories
The Plan Of Attack: I started losing weight by following the guidelines of a low-carb, low-salt and low-fat diet based on the Dr. Poon Metabolic Diet. My family doctor gave me a referral and told me that if it worked, I should stick to it. On the day of my appointment, I ate all of my then-favourite foods and once I met with the doctor, I read the guidelines and decided to try the plan for two weeks. I lost 11 pounds in that time and was thrilled, so I stayed on the plan. I lost a total of 52 pounds in a year.
The Food Element: I started eating leafy green vegetables, berries and lean proteins. I gave up the foods I loved, and which gave me great comfort. Potatoes (fried and mashed), plantains (fried and boiled), sweet potatoes, bread, pasta, chocolate bars, candy, chips, ice cream, doughnuts, cake and muffins and most fruit had to go.
The hardest adjustment was giving up bread, pasta, cereal, sweets and snack foods. It was very hard to wrap my mind around eating leafy greens and meat. There is so much meal planning involved. I just can't easily pop into a coffee shop and get a snack. I need to either cook my own meals or know where to buy something suitable.
The Exercise Factor: I started going to the gym regularly once I hit my goal. At a lighter weight, I haven't hurt myself exercising. I have definitely seen improvements in strength and tone since attempting to go regularly. I do make sure I do some sort of exercise, even if it's planks at home, and I at least go for a daily walk. I bought a hula hoop, and have a leg machine at home.
The Current Day-To-Day: My weight loss journey taught me to look after myself by eating low carbs, exercising, drinking adequate amounts of water and getting proper rest and stress management.
People struggling with their weight need to know that there are lifestyle changes they could make to help them. I never ever would have thought about going on a low-carb diet, but it has liberated me from pain, fatigue, and being obese.
I don't have any regrets. I would not have been able to do this plan at any other time in my life.
Have a success story of your own? Send it to us at CanadaLiving@huffingtonpost.com and you could be featured on the site!