If you're a woman looking to settle down in a new city for things like jobs, education or healthcare, a new report suggests steering far away from Edmonton.
The report, conducted by the Canadian Centre for Policy Alternatives (CCPA) looking at gender inequalities in Canada's 20 largest metropolitan areas, found Edmonton, Calgary and Oshawa were some of the worst cities for women, while cities in Quebec and Saskatchewan snagged top spots.
"Canada has made great progress in ensuring that men and women have equal access to health care and education, but that hasn't translated into personal safety at home or promotion at work," says senior researcher Kate McInturff in a statement.
For rankings, researchers looked at comparisons of how men and women fared in the areas of economic security, leadership, health, personal security and education. In each of these areas, several factors were measured. For economic security, for example, the report measured gaps between men and women's levels of employment, income and poverty.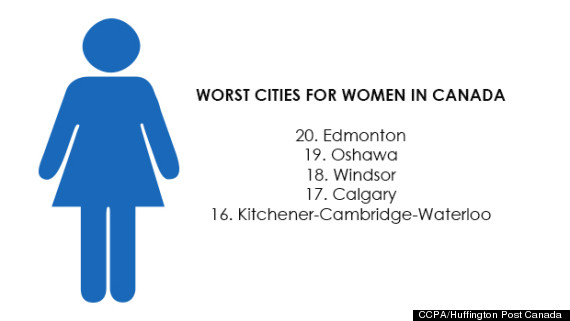 The report also notes key highlights, like where women can expect to earn the most money (Ottawa-Gatineau), where women experience the lowest levels of poverty (Calgary) and where women live the longest (the west coast).
In the past, Canada and its cities overall have topped several "best places to live" lists, including the top G20 country for women excelling in areas of female university graduates and accessibility to healthcare.
Although the CCPA report gives readers a glimpse of what life is like in urban cities, smaller rural communities did not have enough data for comparison. And while moving to some of the best cities sounds reasonable, McIntuff says it's about taking things that work well in one place and implementing it in others, according to Global News.
"Federal and provincial governments also have much to learn from the local picture — about which policies are working and what strategies can be scaled up so that every community in Canada can lay equal claim to being the best place in Canada to be a woman," McInturff adds.
Here is a list of the cities ranked from worst to best. Are you surprised? Let us know in the comments below:
Also on HuffPost
Best And Worst Canadian Cities For Women