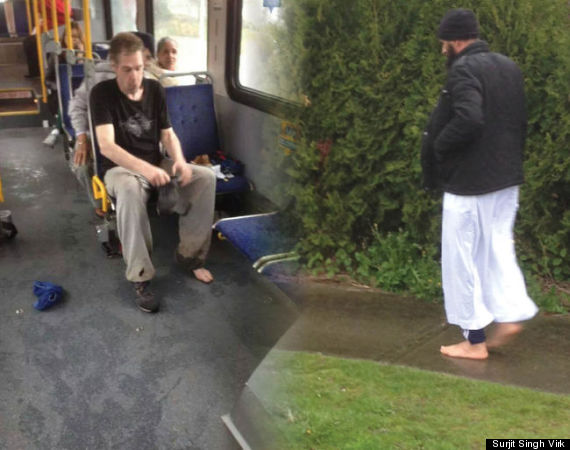 An anonymous B.C. man's random act of kindness to a shoeless transit passenger has elicited an amazing online response.
Over the weekend, a man riding the No. 341 bus route in Surrey was wearing only plastic bags on his feet, reported 24 Hours Vancouver. A fellow passenger took off his shoes and socks, and gave them to the stranger, according to Surjit Singh Virk, who witnessed the exchange.
The newspaper reached the gift giver, who said that his Muslim faith teaches charitable acts should be anonymous. The 27-year-old man from Surrey said he only had to walk a few minutes home barefoot from the bus stop.
Since Virk shared his photos with The Huffington Post B.C., online reaction to what he captured has been overwhelming.
"If every religion practiced the true meaning of their faith we would all love more than we hate!" posted Doug Hall.'
"To me, it's his humanity," wrote Salim Jiwa on Facebook. "For those who are intelligent, cautions about stereotyping don't matter and are unnecessary. For those who are ignorant, no amount of caution, education and information will make any difference. So, let's just celebrate his humanity — which is our common denominator."
"There needs to be more of these acts of kindness," said Ally Sullivan, while Katie Addison pointed out, "This is what I love about this beautiful diverse place we live!"
"We are all one family, if anyone in our family was without shoes... this is exactly what we would do. Once in a while we need this reminder to save our humanity," said Facebook user Baljit Sabharwal.
Also on HuffPost