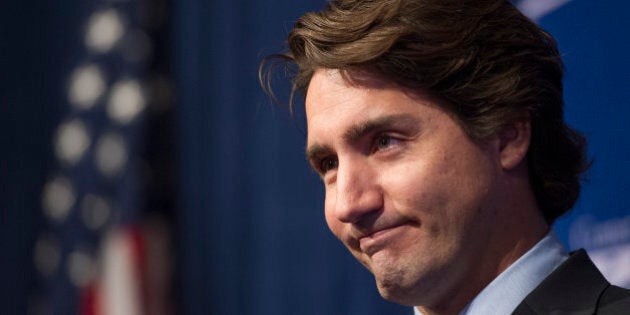 Justin Trudeau didn't exactly jump at a recent opportunity to talk about one of his favourite topics.
During Wednesday's visit to a downtown Toronto skateboard shop, the Liberal leader balked at a recent international study on the income gap — one that suggests Canada's middle class isn't in such dire shape after all.
According to Sun News, he refused to answer questions about the New York Times report — opting instead to leave the building with a skateboard tucked under his arm.
Indeed, Trudeau has been making the so-called struggles of Canada's middle class a top talking point these days, promising to resuscitate what he has deemed a long-stagnant mass of middle-earners.
The trouble is, Canada's middle class may be booming.
Earlier this week, the New York Times published the results of a study suggesting America's middle-earners have been eclipsed by their Canadian counterparts.
"After-tax middle-class incomes in Canada — substantially behind in 2000 — now appear to be higher than in the United States," the newspaper reported. "The poor in much of Europe earn more than poor Americans."
Conservatives wasted no time in touting the study, with Employment Minister Jason Kenney tweeting:
The Tories subsequently send out a fundraising letter to supporters, attacking Trudeau's economic policies and warning the Liberals "would shrink the middle class".
"Only Canada's Conservatives will stand up for the middle class ­ — can we count on you to stand with us? Chip in $5 today and stand up for the middle class," read the letter, signed by Kenney.
And the rhetoric is still ringing in our ears.
At an Economic Club luncheon on Friday, Democratic Reform Minister Pierre Poilievre told a small group of industry lobbyists and journalists that Canadians who work hard and play by the rules are doing a lot better these days.
"Unlike Mr. Trudeau, our policies are common sense and they are working," he said. "The facts speak for themselves. After taxes, disposable income has risen 10 per cent in all income categories since 2006. One million Canadians have been removed from the tax rules all together, including 380,000 seniors. There are 1.4 million Canadians who were living in poverty when we took office who are no longer in that unfortunate situation, and, or a quarter million of them are children."
This isn't the first time the young Liberal contender for Prime Minister has been nipped by reality.
For his part, Trudeau said his big-picture is even bigger — as he takes into account data going as far back as 1981.
"It all has to do with where you want to start," he told reporters in Ottawa. "If you want to take a start date of 1991, you can get certain numbers. But if you want to look over the longer term like I have, since '81, you actually see very, very troubling trend lines."
"And it says finally — something that the Conservative government has so far refused to acknowledge — for far too many, 'the Canadian dream is a myth more than a reality.'"