More than 30 dead cats have been found, dangling from a tree in an abandoned lot in Yonkers New York.
The cats, in various stages of decomposition, were ritualistically hung throughout the tree, according to Vocativ.
"They were placed in small shopping bags, the plastic bags that you might get from an A&P or a ShopRite, and then they were hung from a tree," Ernie Lungaro, director of humane law enforcement at SPCA, told the news site. "Some were severely decomposed. We got a couple that were still fresh, within the last few weeks maybe. But we're transporting them and are going to have some necropsies done. We'll know more then."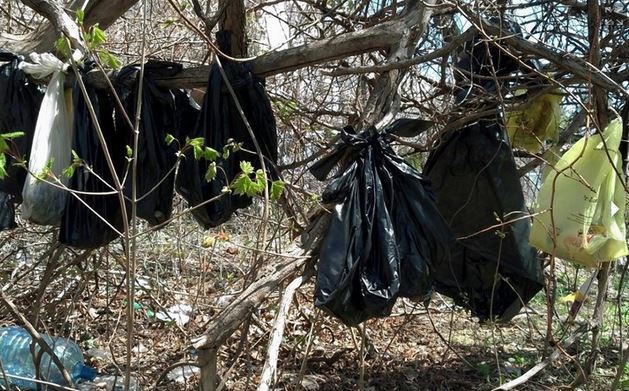 While it remains a mystery why anyone would brutalize and string up cats, investigators seem equally perplexed as to how no one noticed the powerful stench of rot earlier.
The scene was very close to several residences, according to the Yonkers Daily Voice.
"It's very strange. There's a house next door and there are residences across the street. It's a well-travelled little vacant lot," SPCA's executive director, Shannon Laukhuf told Vocativ. "There's a path that runs down to the businesses. Clearly, people have walked that path pretty often. It's hard to believe that someone didn't notice something. The smell of decomposition is overwhelming."
Some residents weren't surprised the horrific scene lingered so long.
"That place is always dirty so when you see a bag there, it's nothing new," Guy John, who lives across the street from the area, told Lohud. "You see rats running out of there. It looks like a race... Sometimes you confuse the rats for the cats."
Police combed through the area immediately after the grisly find, according to the New York Post, and necropsies are scheduled to determine what killed the cats.
Also on HuffPost