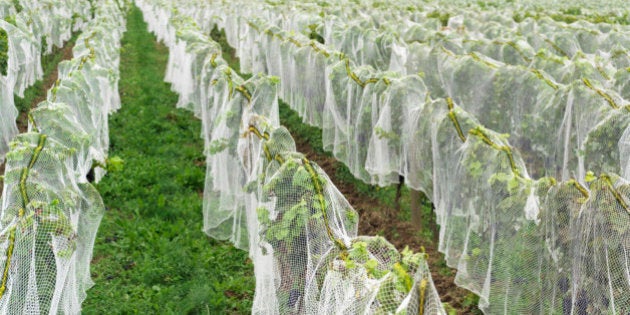 Ontario wines will be among the local produce stands and seasonal vegetables for sale at farmers' markets starting this weekend
On May 1, homegrown wines, crafted entirely from Ontario-grown grapes and following local winemaking standards, can be bought at approved farmers' markets. It's another step toward adding more venues to buy alcohol in Ontario.
The availability of the wines is a part of a two-year pilot program the province hopes will lead to a jump in demand for the VQA wines.
The province says VQA wine sales hit $268 million last year, up $100 million from 2008. It adds that there are approximately 200 farmers' markets and 140 VQA wineries in Ontario.
Broadening the availability of Ontario wines is part of a five-year, $75-million plan to support local wineries and help the sector grow, Wynne said.
Premier Kathleen Wynne announced the program last December, the week after British Columbia announced a similar move.
Wynne has repeatedly rejected calls to allow corner stores to sell beer and wine, but she promised to broaden their availability through speciality outlets and grocery stores.
The Liquor Control Board of Ontario is also establishing Ontario wine boutiques at 20 grocery stores in the province to offer consumers a wider array of VQA wines.