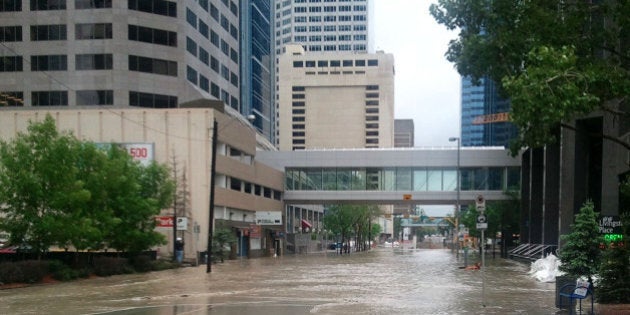 TORONTO - Despite recent extreme weather that wreaked havoc in parts of the country, a new study finds many Canadians are ill-equipped to face another potential emergency.
The seventh annual RBC Canadian Water Attitudes Study of more than 2,000 adults found that overall, only nine per cent say they've taken precautionary measures to protect themselves and their homes from the effects of extreme weather.
The survey found 52 per cent felt prepared to cope with the adverse effects of severe thunderstorms, 38 per cent felt prepared for flooding and 27 per cent for hurricanes.
Last year (2013) was the worst year ever for severe weather insurance losses in Canada. The Insurance Bureau of Canada said the largest disaster was flooding in southern Alberta following torrential rains in June, causing more than $1.74 billion in insured damage.
Record rain and flash floods in Toronto in July caused an estimated $940 million in damage payouts, while ice storms in southern Ontario and Atlantic Canada last December caused more than $200 million in insured losses — elevating the total of severe-weather payouts to policyholders in 2013 to $3.2 billion.
While most Canadians expect that emergency services, neighbours and charities would offer the most support to affected citizens, they saw provincial governments as having the greatest obligation to support those affected by extreme weather events.
"The potential for natural catastrophes is not a question of if — it's a question of when," said Paula Bandi, senior product manager at RBC Insurance.
"So although Canadians see the government and other agencies as the key to assisting during these extreme weather events and natural disasters, really, Canadians need to take a more active role in helping themselves and their families prepare for such events."
The survey was released in advanced of Emergency Preparedness Week, which takes place May 4-10.
Bandi said homeowners should ensure they have an emergency preparedness kit with enough to keep themselves and their families safe for 72 hours without help. Kits should be equipped with such items as bottled water, non-perishable food, first-aid kits, blankets, extra clothing and battery-operated candles.
They may also want to consider having a main kit if they're remaining at home as well as smaller kits that can be parsed out to family members in the event that evacuation is necessary, she added.
Bandi said measures can be taken to safeguard the home prior to an extreme weather event by focusing on securing weak points where wind and water can flow in, such as windows, doors, roofs, siding and eavestroughs.
"Tend to any cracks and chips in the glass in the windows and doors, because high winds could shatter the glass and it could potentially harm people if they're in the way, letting in water and glass debris. That could be pretty dangerous."
Bandi also recommended checking for any missing, curled or damaged shingles and contacting a roofing, contracting or repair person if any issues arise. If enlisting a contractor, also confirm warranty details during the estimation process, she noted.
She also suggested taking a room-by-room inventory of all belongings, particularly special valuables in the event it's necessary to file a claim in future.
"After an event, it can be very stressful, and you really can't think about all of the things that you had in your house and all of your valuables. So really doing that ahead of time is highly recommended."
The online survey of 2,074 adults was administered by GlobeScan between Jan. 24 and Feb. 12. It included a minimum of 200 respondents in Calgary, Halifax, Montreal, Vancouver and Winnipeg and 300 in Toronto. The margin of error for a sample of this size is plus or minus 2.2 percentage points, 19 times out of 20.
_ Follow @lauren_larose on Twitter.