The church organ and choir swapped their usual repertoire for the movie themes of film soundtrack composer John Williams while Rev. Kathryn Ransdell exchanged her ceremonial garb for Princess Leia's royal getup.
No, it wasn't an Imperial invasion — it was part of the May the Fourth, or Star Wars day celebrations.
Story continues below slideshow: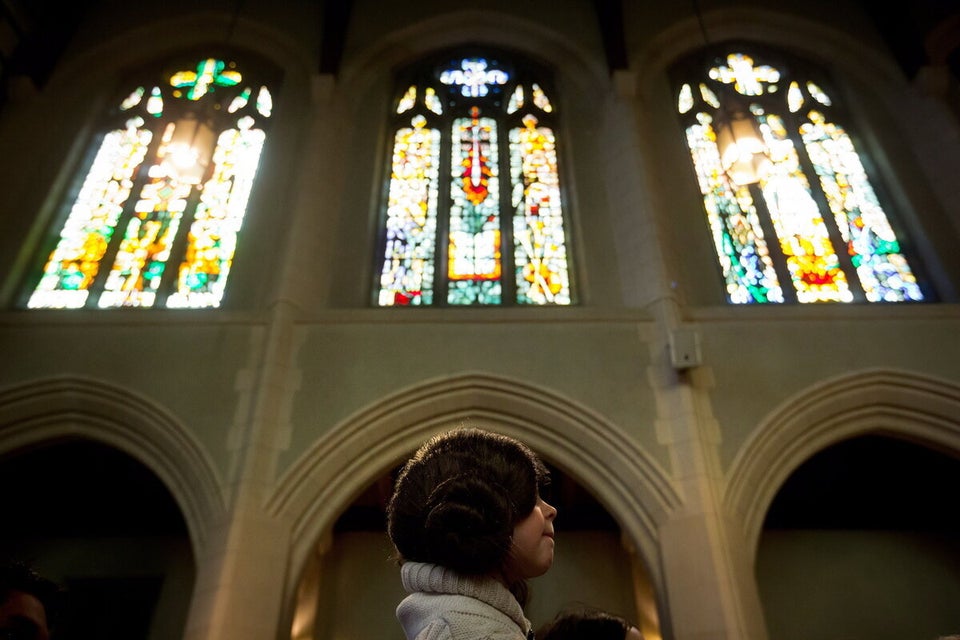 Star Wars Church Vancouver
For many churchgoers, it was a way to merge a historical tale of good and evil with a Hollywood blockbuster.
Ransdell made comparisons between biblical tales and the Star Wars movies.
"Strong in the force I am," said Mike Seidman, a regular attendee who was dressed as Yoda. "Even nerds know how to worship God."
"The battle between good and evil exists everywhere — not just in a church," said Lorraine Graves, whose son's idea to celebrate May the Fourth sparked the Mass's theme. "The real world is what the lessons are about whether we're learning from stories in the Bible or stories in a movie."
And some people took the lessons quite seriously.
For Hans Haest, an usher clad in Jedi regalia, goodwill is his light saber.
"The idea is that we're supposed to be good warriors fighting evil in the community," said Haest. "And we don't do that by physically fighting with people, we do that by reaching out to the community in charity."
The first reference to Star Wars day was in May 4 1979, about two years after the first movie had been released, when Margaret Thatcher was elected prime minister of Britain.
The London Evening News printed a half-page ad reading "May The Fourth Be With You, Maggie. Congratulations," a play on the movie's popular mantra, "May the force be with you."
Fans had celebrated the day with small informal events for years, but the party finally gained traction in May 2011 when Toronto revellers organized a costume contest and film festival among other events.
Since then legions of the Star Wars faithful have been organizing festivities of their own around the world.
The Star Wars franchise spans six films and since Disney bought Lucasfilm in 2012, plans have been made to shoot three more movies.
The next Star Wars feature is slated for release in December 2015 and is rumoured to bring back much-beloved characters such as Luke Skywalker, Han Solo and Princess Leia.
J.J. Abrams, the co-creator of the hit TV series Lost and who was also at the helm for the two most recent Star Trek film releases, will be directing the upcoming movie.